Khandeshi Daraba Ladoo ( Authentic Khandeshi Delicacy )
For years on, I used to love the ladoos shared by our Marathi neighbours. However many recipes I would try, I was never able to match the taste and texture of the same. Finally, I got the lady to show it to me a couple of times and help me source the ingredients as the flour procedure is such that only one particular flour-mill would do it authentically in our town. Many a times, she would get the flour done from her native village as well. From what I understood, that these ladoos are an integral part in all their celebrations, especially weddings and Diwali.
#MyRegionalDiwaliRecipe
#RegionalDiwaliRecipe
#DiwaliRecipe
#DiwaliRegionalRecipe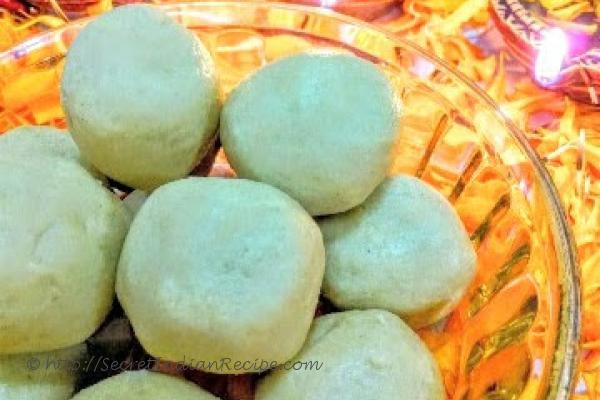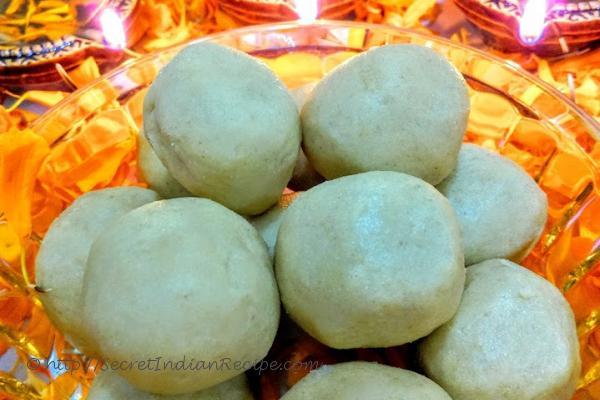 Ingredients:
1 kg Wheat
1/2 or 3/4 kg Ghee
1/2 or 3/4 kg powdered Sugar
Raisins, Almonds to garnish ( optional)
1/2 teaspoon Elaichi (Cardamom) powder ( optional)
Directions:
At night, wash the wheat and soak in water for 10 minutes. Strain to remove the water. Wrap it in a thick towel. The wheat should be little moist only.
Next morning, pound it into flour either at home in flour pound machine or get it done from a flour mill. Flour got from flour mill gets better result.
Sieve the flour got to get the fine atta. Sieve it 2-3 times.The thick atta left will not be used. The medium fine flour and the fine flour will be used.Measure the quantity of the fine atta so as to work out quantity of ghee to be used. The proportion of fine flour to ghee will be double. If we are using 4 cups of flour, then ghee will be 2 cups. I used only 4 cups flour storing the rest for next batch.
In a thick bottom pan take 1 1/2 to 2 cups ghee and let it heat up. Keep the flame low. Add the flour and keep on stirring it continuously.Stir fry for about 10-15 minutes till the texture of the flour changes and the flour gives out aroma. The colour change will not be too much.
Remove from flame and keep in a plate to cool down completely. Wipe the pan with clean cloth to remove flour totally.
In the same pan add 1/2 cup ghee and add 1 cup of the medium fine flour, also called sooji. Remember, this is different from the ready made store got sooji. Fry it also for 10 minutes with constant stirring so that it does not burn. Remove and cool completely.
Mix both the flours on cooling and add powdered sugar. Sugar can be half of the flour quantity or bit more to adjust sweetness as per choice. Let It all stand for 3-4 hours Later on, take this in a grinder jar and whisk for 1-2 minutes. The mixture will give out oil / ghee.
Now, make ladoos from this mix. Add raisins, Almond slivers and elaichi powder while making the ladoos.( optional) I didn't add as they taste yumm as is. If the ladoos don't come together while forming, little bit of heated up ghee is added. This helps in bringing the mixture together so that ladoos can be formed.
Use as much flour as needed and store the rest for about 10-12 days to use later on. If after giving a whisk in the grinder too much ghee is given out, keep the mixture for 5-7 minutes in the fridge. The mixture will easily come together.These ladoos are always on the softer side. Store in air tight container.
Footnotes:
These ladoos are unlike any Atta, Rava ladoos you will taste ever. These have a taste that is so unique that you will look forward to occasions to make and relish them...!!