Khatta Baingan Curry (sour Brinjal Curry)
This recipe comes from my mother's kitchen and goes best with parathas (Indian bread).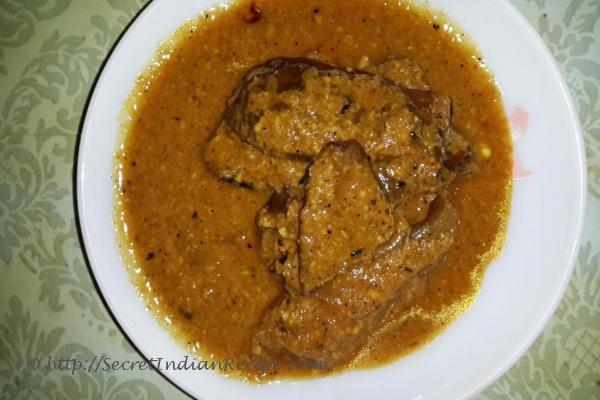 Ingredients:
Small brinjals - 4 nos.
Turmeric - 1 tablespoon
Cumin powder - 1 tablespoon
Red Chilli Powder - 1 tablespoon
Grated Coconut - 1 cup
Coconut milk - 1/2 cup
Tamarind (Imli) - 50 grams
Mustard Seeds - 1/4 teaspoon
Kadi patta (Curry leaves) - 4/5 leaves
Green chillies - 2 to 3 nos
Oil - 2 table spoon
Salt - 1 tablespoon
Directions:
Masala for the preparation - in a bowl, mix 3/4 turmeric, 1/2 red chilli powder, 1/2 cumin powder, 1/2 tablespoon salt.
Soak the tamarind in half cup hot water for some time and squeeze the juice.
Cut the brinjals lengthwise into four pieces keeping the end intact. Now coat the brinjals with the Masala and keep it aside for half an hour.
In a wok, pour oil and heat it. Add mustard seeds and let it splutter. Add curry leaves, green chillies. Now add the rest of turmeric, chilli powder, cumin powder and salt.
Now add the tamarind juice, then grated coconut and let it cook. Let it cook till the oil starts separating.
Slowly introduce coconut milk. Add water if required for a semi-thick consistency. Cover and cook for 5 - 7 minutes.
Now release the brinjals in the curry and let cook stirring in between so that the curry does not stick to the bottom.
Serve hot with rice or parathas.