Kheema Gobhi (minced Mutton With Cauliflower)
Kheema based dishes has been around for so long in the form of kheema pav in Mumbai or Kheema matar in the Mughlai cuisine that it is difficult to pin it down to a particular cuisine. But it is believed to have traveled to India from the Central Asia in the Mughal period. Matar or green peas is quite expensive in off seasons so perhaps this recipe was born because cauliflower can lend volume that green peas could not. If you mash this curry quite well it can be transformed into stuffed paranthas as well.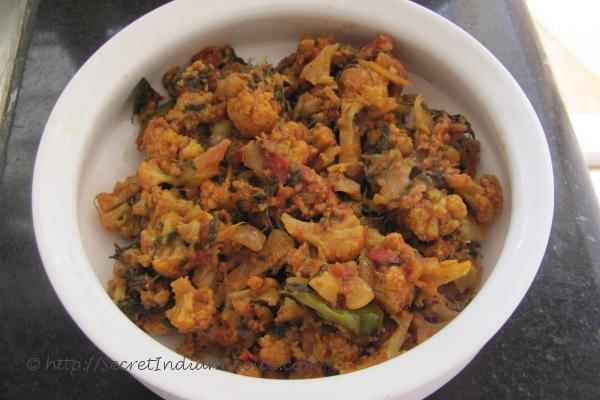 Ingredients:
Cauliflower- 250 g
Mutton Minced Meat- 150 g
Onion- 1
Tomatoes- 2
Ginger- 1 inch piece
Garlic- 6 pods
Green chilies- 3
Turmeric powder- 1/2 tsp
Chili powder- 1/2 tsp
Garam Masala- 1 tsp
Salt- to taste
Oil- 3 tbsp
Kasoori Methi- 1 tbsp
Coriander leaves- 1 sprig
Directions:
Cut the cauliflower into florets.
Heat oil in a pan and saute the onions till they are golden brown.
After the onions brown, add the minced ginger and garlic.
Once the ginger- garlic browns add crushed chilies and diced tomatoes.
Add salt first so that the tomatoes are mashed. Add the spice powders after adding salt and saute till the spices cook.
Add kasoori methi followed by the cauliflower and kheema.
Do not add water at this point wait for the water to be released from the kheema.
Once the kheema and cauliflower is well cooked if there is no gravy add 1/4 cup water.
If you like the curry dry leave it as it is without water, sprinkle the coriander leaves and serve the curry.
Other Indian Recipes that you may Like !