Kheema Masala (pork Minced Meat With Vegetables)
A finer version of this curry is what I use as a stuffing for momos or Hakka noodles. It so happened that I had very little pork mince that it could not suffice in itself as a curry. So I made a hash of few veggies used for momos the previous night and this dish was created. It is mildly spiced and has no Indian spices except pepper.
When I skip garam masala I feel the curry becomes lighter and is good for my tummy. This way of cooking also brings in the real flavor of the meat for which I believe one should skip the use of all the regular Indian spices.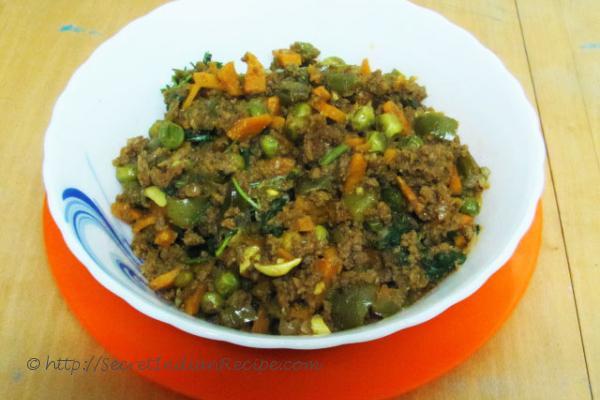 Ingredients:
Pork Mince- 100 g
Frozen peas- 1/4 cup
Grated carrots- 2
Shredded cabbage- 1/2 cup
Onion- 1
Ginger- 1 inch piece
Garlic- 6 cloves
Soy sauce- 2 tbsp
Green Chilies- 3
Celery- 2 stalks chopped
Peanut oil- 2 tbsp
Salt to taste
Rice vinegar- 1 tsp
Directions:
Grate the carrots, cabbage and finely chop the onions and capsicum. Mince the garlic and chop the ginger and green chilies finely.
In a pan heat the peanut oil. Saute the minced garlic first and add the finely chopped ginger and green chilies immediately.
Now add the grated carrots, cabbage, green peas, chopped onion and capsicum. If you like sprouts you can add them too, I have not added sprouts in this recipe.
Give all the ingredients a good toss and add the soy sauce and rice vinegar. Now add the pork mince and stir well for 4 minutes.
Keep stirring on medium flame till the water content gets released from the pork and vegetables. Add the celery and give a final toss before taking the pan off the stove.
Serve with fried rice or bread.
Other Indian Recipes that you may Like !