Kheema Omelet (omelet With Minced Meat)
This is the most extravagant omelet I have ever made. I tasted it for the first time at Indian Coffee House, Kerala a popular joint run by worker co-operative societies. The Indian coffee house is known for its generous portions and reasonable price.
Now with a lot of leftover meat after New Year, we are making new dishes out of them each day. So today I just pulsed some leftover cooked beef and made this omelet. I think this omelet in itself is filling for an adult or a child. You can use the meat of your preference though this dish ideally is made with minced beef.
Instead of using fresh kheema I suggest you mince cooked meat like we do for cutlets. The use of fresh kheema taste different from this and cooking fresh kheema releases a lot of water, making it a strenuous process. Hope to see your feedback on this recipe.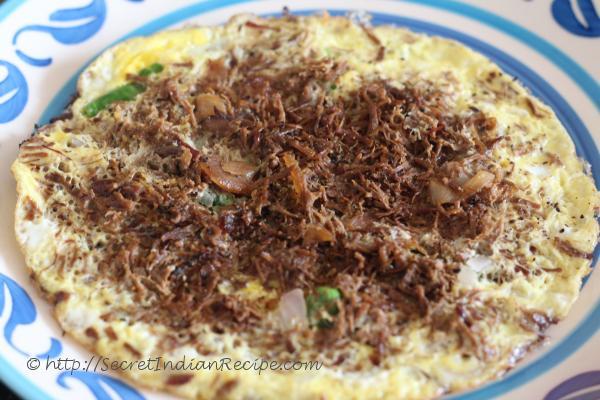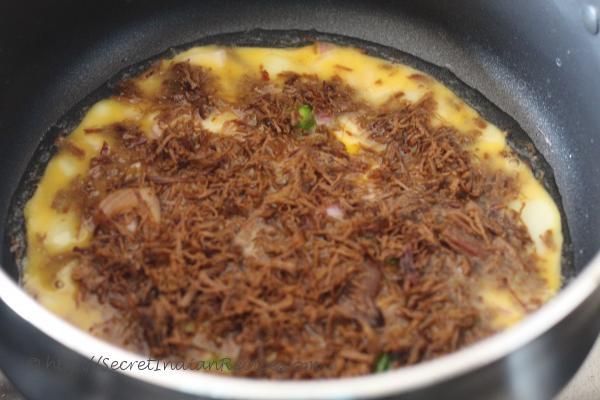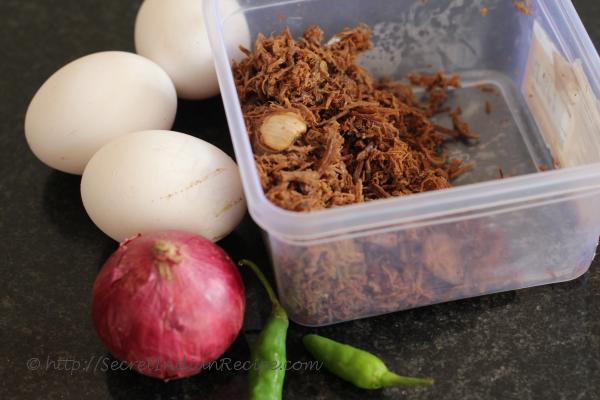 Ingredients:
Cooked Beef- 100 g
Onions- 2
Garam Masala- 1/2 tsp
Curry leaves- 1 sprig
Salt- to taste
Eggs-3
Green chilies- 2
Oil- 3 tbsp
Pepper powder- 1 tsp
Directions:
For the kheema pulse the cooked beef in a grinder. If you pulse it once it will shred well. It is ideal to do this after cooling the meat in the fridge.
We had leftover meat if you plan to do this exclusively for this recipe, pressure cook the beef marinated with turmeric and salt up to 4 whistles and then cool the meat.
In a pan heat 2 tbsp oil and saute 1 onion diced finely with curry leaves. When the onions soften add the pulsed beef which is now shredded and stir fry till it is crisp.
Add a bit of salt and garam masala and saute a minute before switching off the flame.
In another bow prepare for the omelet by whisking the eggs with salt and add the finely chopped green chilies and 1 onion.
Heat the remaining 1 tbsp oil in a pan and when the pan is hot add the whisked egg. Cover the pan with a lid and let the omelet cook for 2 minutes.
Open the lid after 2 minutes and add the minced beef and cover the lid again for 2 minutes. See that the flame is low all throughout.
When you open the lid after 2 minutes the omelet would have cooked perfectly. Do not flip the omelet serve it just as it is or fold into half and serve it.
Footnotes:
Even if you plan using chicken cook the chicken and then shred it rather than using minced meat.
Other Indian Recipes that you may Like !