Kheema Paratha (indian Bread Stuffed With Minced Meat)
Every land has their version of stuffed meat breads be it calzones, pocket breads, puffs, arayis or emapanadas. And it is also fascinating that each of these breads taste different. The most common stuffed bread with meat in India is the kheema paratha, though there are other popular stuffed breads all around India. The meat can be chicken or mutton. The choice of flour also differs from place to place. Some stuff the kheema into naans, others into parathas, some others into rice flour breads called pathiri. But the most popular one is kheema paratha and it is quite simple to make.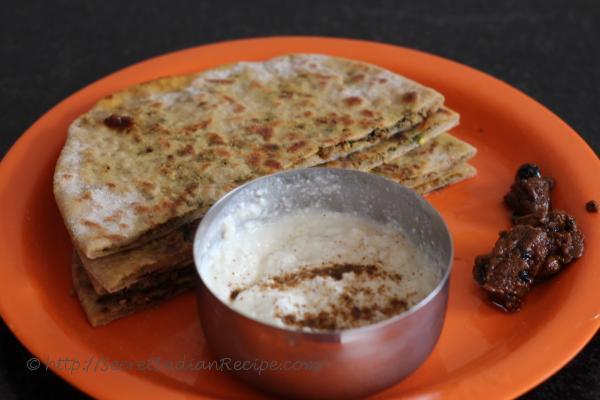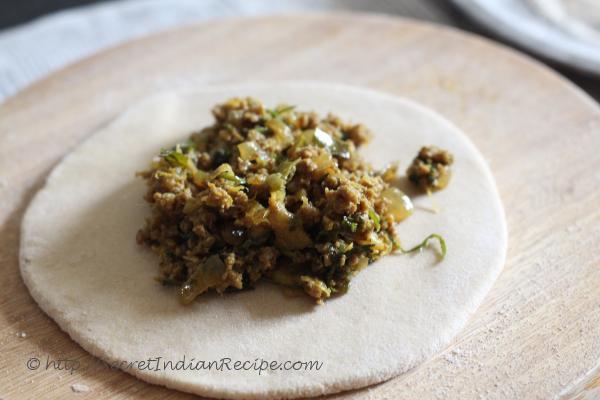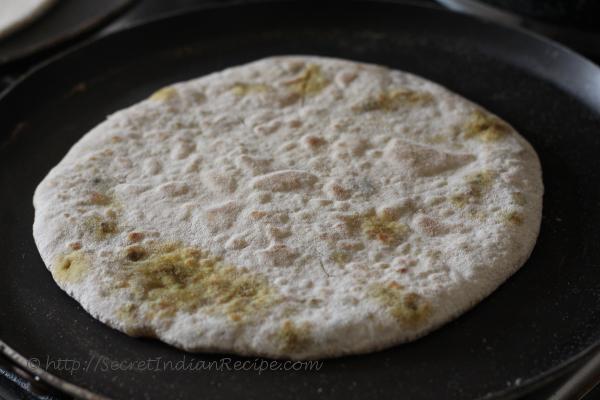 Ingredients:
Chicken minced meat- 200 g
Onion-2
Ginger-garlic paste- 2 tsp
Green Chilies- 4
Tomatoes- 2
Chili powder- 1 tsp
Garam Masala- 1/4 tsp
Turmeric powder- 1/2 tsp
Coriander leaves chopped- 1 cup
Salt- to taste
Oil- 2 tbsp
Whole wheat flour- 2 cups
Salt- a pinch
Water- for kneading
Oil- 1/4 tsp
Butter- 3 tbsp
Directions:
Heat 2 tbsp oil in a pan and saute the finely chopped onions till they brown. Now add the ginger-garlic paste and chopped green chilies.
When the ginger-garlic paste starts to brown add the chopped tomatoes followed by salt. Let the tomatoes break down into a nice sauce and then add all the spice powders.
Roast the spices and add the chicken kheema. Stir the kheema and very soon you will notice that the kheema has released some water.
Do not cover and cook the kheema, it will cook faster otherwise too. Let the water in the kheema dry out completely so keep stirring.
Garnish with coriander leaves and set the kheema aside once the water has evaporated completely.
For kneading the dough for paratha in a big bowl add the whole wheat flour and salt and start kneading by adding water slowly. Knead till you get a firm dough such that when you press a finger the dough should spring back.
I don't use a measurement for the water I use for kneading but I add it slowly and if I ever have more water in my dough I balance my act by adding more flour and it has always turned out fine.
I do add oil in my dough so I have mentioned 1/4 tsp oil for the kneading part above.
Once the dough is ready make medium size balls and roll them into flat discs. Fill the filling in the centre and cover the ball by pulling the corners to the centre to form a full ball with stuffing inside.
Now smear some flour on your board and roll the paratha with filling gently see that the filling does not burst out even if it does a bit its fine.
Heat a tawa and cook the paratha both sides till it shows brown blisters on eitehr sides. Apply some ghee on top of the paratha and served with spiced curd and pickle.
Footnotes:
For spiced curs I add a pinch of cumin powder and chaat masala to my curd with salt and give it a nice whisk.
Mutton kheema tastes even better same recipe applies to using mutton kheema.
Other Indian Recipes that you may Like !