Kheema Samosa ( Minced Meat Stuffed Triangular Snack)
The delicious Kheema Samosa are here to relish. You can use moong dal / Tuwar dal instead of minced meat for a vegetarian version.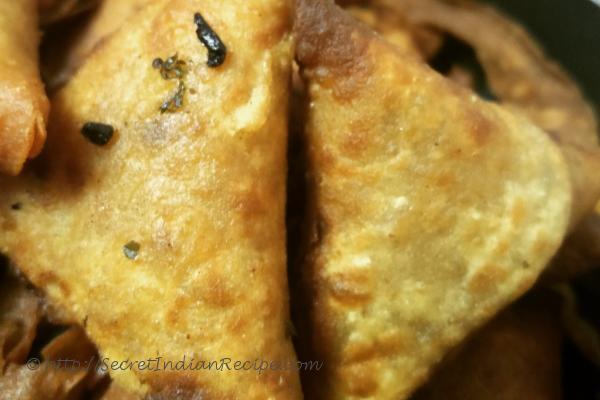 Ingredients:
300gms Kheema (Minced meat)
1tbsp Ginger Garlic Paste
11/2 tsp Red chilli powder
11/2 tsp Dhaniya (Coriander) Powder
1 tsp Garam Masala powder
3 strands Spring onion finely chopped
1 cup Coriander finely chopped
Salt to taste
Samosa leaves ( Readymade)
Directions:
In a wok add little oil and put kheema. Cook it on medium flame, after 10-15mins add ginger garlic paste and all the spices and let it cook properly.
It should be cooked until it is completely dry. Keep cooking on medium flame.
Turn off the gas once the mixture is ready to be filled. Keep aside and let it cool properly. Add spring onions to it but it should also be dry as even onions will leave water. Add good amount of coriander and mix well.
Fill the mixture in samosa leaves and fry.
Footnotes:
Serve hot with lemon and ketchup.
Other Indian Recipes that you may Like !