Kheer Aloo Pua
Kheer Alou Pua is one of the easy to make homely Bengali sweet dish . It is almost like making pan cakes only deep fried . Cook and store them in a jar and can enjoy as dessert or snack ..........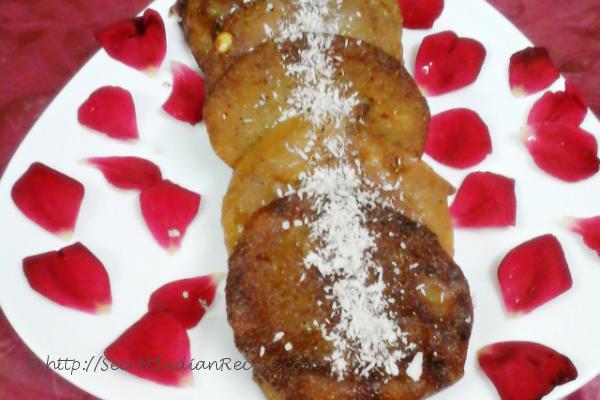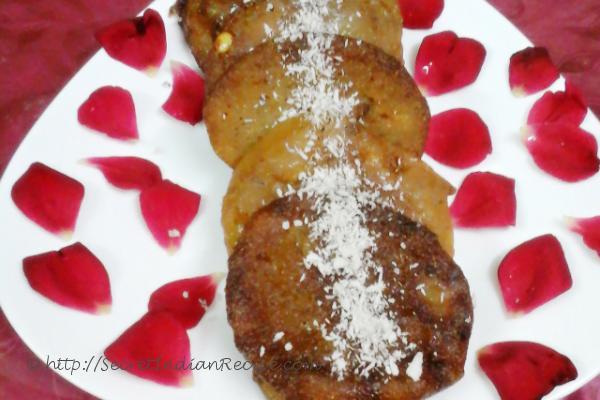 Ingredients:
Maida - 1 cup
Sweet potato boiled - 200 gm
Semolina - 1 cup
Sugar - 1 cup
Salt - 1/2 teaspoon
Mouri ( fennel seeds ) -1 teaspoon
Milk - 1 cup
Coconut milk - 1/2 cup
Grated coconut - 1 cup
Khoya kheer or Mawa grated - 1 cup
Baking powder - 1/2 teaspoon
White oil for deep frying
Chopped badam - 4 tablespoons
Directions:
Boil the red potatoes in a pressure cooker for 2 minutes only , open the lid of the pressure cooker to avoid melting of the potatoes as they are very soft once boiled .
Peel of the skin of the boiled potatoes and mashed them very well.
Mix all the dry ingredients maida , sooji , khoya kheer , sugar , salt , mouri ( fennel seeds ) , and baking powder together in a bowl .
Now add mashed potatoes , grated coconut , chopped badam , milk and coconut milk to make a smooth batter just like pancakes batter .
Keep the mixtures in room temperature for about 30 minutes .
Then take a non stick frying pan and heat oil and pour one big spoon at a time and fry both side till golden brown .
Sprinkle some grated coconut and serve hot or cold ..........☺☺