Khichu ( Steamed Rice Flour Rolls)
Khichu is an authentic gujarati snack served with pickle powder and oil. It can be consumed as breakfast or supper or even can be a side dish in main course. In villages, we make it in matka to get the earthern flavour. It is easy to digest and is loved by people of all ages.
The best thing is it is easy and instant to cook with minimum ingredients.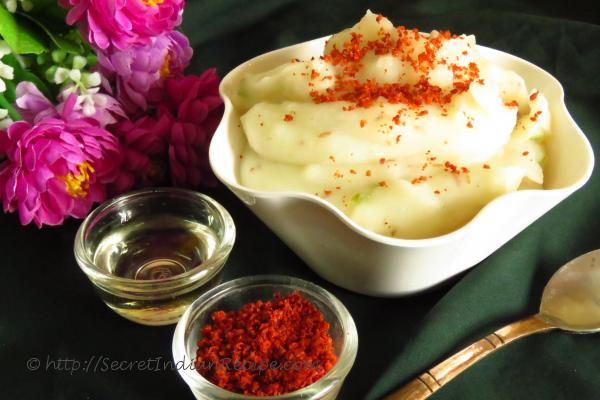 Ingredients:
1 cup Rice Flour
4 cups Water
1 tspn half crushed and roasted Cumin seeds
1-2 tspn Salt
1 tspn Green chillies chopped finely
For serving use :
2 tbspn Oil
1 tbspn Pickle masala
Directions:
Take a pan. Add the cumin seeds and chillies and salt to 4 cups of water and boil for 2 minutes.
Start adding the flour gradually so that it doesn't form lumps. Preferably use add and stir technique.
Mix well with a spatula to make sure no lumps are formed.
Cover the pan with lid and cook it for 5-7 min till.the flour is cooked and all the water gets absorbed.
lastly make sure all water is absorbed and the khichu will becone stiff.
Serve it hot with oil and pickle masala.