Khirer Chop With Strawberry Sauce (khoya Dumplings With Strawberry Sauce)
Kheer stuffed chop, lightly tossed in sugar syrup is a wonderful way to make my Diwali Special. This recipe has flour, suji, nutmeg , milk , sugar and bread combine into a MISHTI ( Sweet) that is truly out of this world.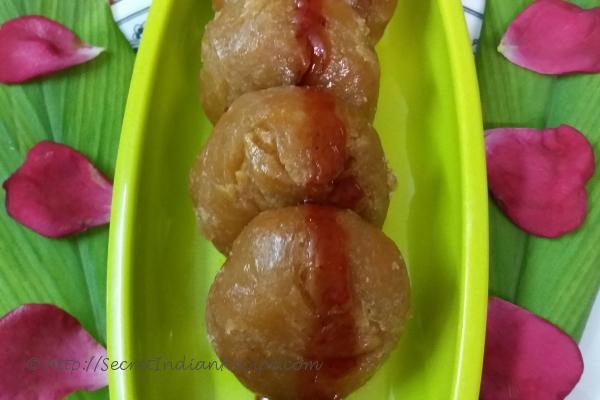 Ingredients:
Flour - 200 gm
Sugar - 2 cups
Greated khoya / mawa - 100 gm
Ghee - 1 cup
Nutmeg powder - 1teaspoon
Water - 11/2 cup
For Strawberry Sauce ::: -
Strawberry pulp - 1 cup
Sugar - 1/2 cup
Directions:
For KHIRER CHOP stuffing -- Heat a pan add grated mawa and 3 teaspoons of sugar and mix well, when the mixture thickens then add the nutmeg powder and remove from the heat and set aside to cool.
For sugar syrup ::: Boil water in a pan add sugar to it and stir and heat the mixture till it acquires a very thick consistency and remove from the heat and set aside to cool.
Procedure for chop ::: Assemble all the dry ingredients in a large bowl and make a dough . Then take a portion of the dough and put a little Kheer in the centre of the dough cover it very slowly.
Form an oval shapes with it by gently potting it with the hand.
Heat ghee in a shallow pan and deep fry the chops till they are golden brown in colour.
When cooked, gently toss them in the sugar syrup for 2 mintues. Kherer chop is ready.
For Strawberry sauce, heat a pan and add the strawberry pulp and sugar. Bring to a gentle boil and cook the strawberry for 2-3 mintues.
Remove from the heat and set aside to cool then use a potato masher to completely smash them to get your the Strawberry Sauce ......
To serve take a kherer chop and pour some strawberry sauce over it and serve.