Khoya / Mawa Matar (green Pea And Condensed Milk Curry)
Mawa or Khoya is commonly used in making Indian desserts. It was Mughals, who first started using Mawa or Khoya is making their curries rich. Mawa or Khoya is added in curries to make it thick. You can add mawa or khoya to almost any curry North Indian tomato and onion based gravy to make it rich and thick. Mawa or khoya has a very subtle flavor, so it does not disturbs the original flavor of the spices. However, you need to be careful, when you are buying it from market. First, It should be fresh, Mawa if kept for days, turns bad. Second, it should not be sweetened. So, It is better to taste it before buying. This recipe is a tried and tested recipe, a recipe which takes just 10 mintues and can be served with simple Chappati or paratha.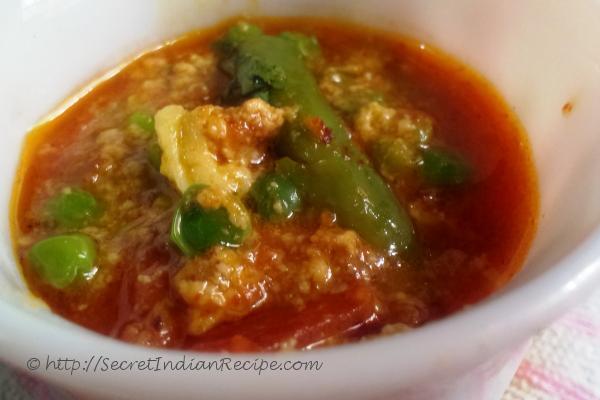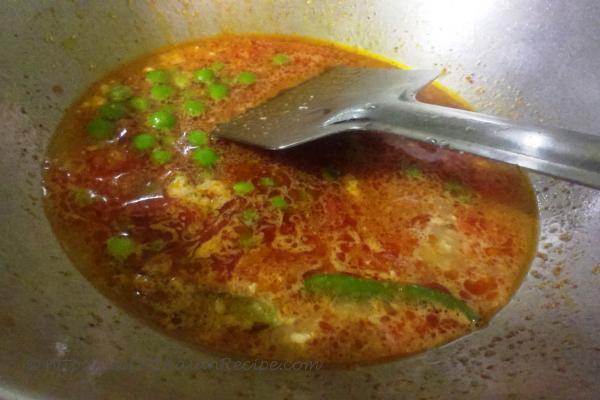 Ingredients:
Matar (Green Pea) – 1/2 bowl
Mawa / Khoya – ½ bowl
Ghee – 2 tablespoon
Oil – 2 tablespoon
Hing (Asafoetida) – a pinch
Cloves – 2 crushed
Green chilies – 2-3 slitted
Coriander Powder – ¼ tablespoon
Cumin Powder – ¼ tablespoon
Red Chili Powder – ¼ tablespoon
Tomato - 1 medium sized chopped
Chopped Green Coriander – 3 – 4 tablespoon Chopped
Kasuri Meethi (Dry Fenugreek leaves) – ¼ tablespoon
Sugar – to taste (Optional)
Salt – To taste
Directions:
Heat oil and ghee together in a pan over low heat. Add crushed cloves, hing and slited green chilies. Wait for few seconds, till they release the fine aroma.
Add chopped tomatoes and all the spice powders i.e. coriander powder, cumin powder and red chili powder and khoya and mix. Ensure the flame is low and sauté it for few seconds.
Add a cup of water and mix well. Let the curry bring to a boil.
Now add green peas, chopped coriander leaves, kasuri meethi, salt and sugar to taste. Check the consistency of the gravy and then switch off the gas.
Serve with hot Chappati or paratha.
Footnotes:
If you are using frozen peas, thaw them before adding to curry. If you are using fresh tender peas you can add them directly in the curry. If you are using fresh peas which are not very tender, then blanch them in boiled water with a little sugar.