Kichadi Saatham - Rice Kichadi With Dal And Vegetables
This recipe consists of rice, dal, ghee and several other Indian spices combined together. It gives this recipe a fantastic aroma and taste. This dish has proteins, vitamins and calcium so it's good for children. It's a signature dish made by my sister and I learnt it from her. Try this out and you will love it.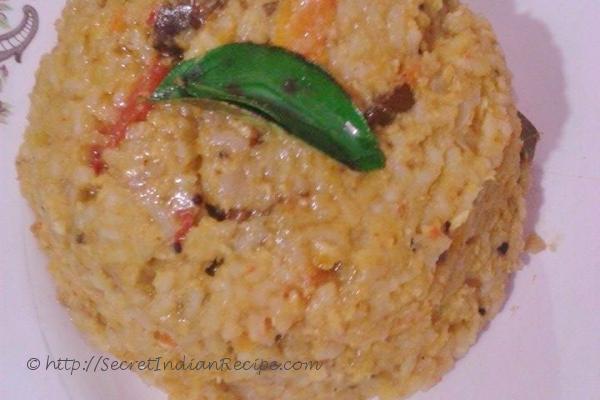 Ingredients:
Rice - 1 Cup (You can use any rice of your choice)
Toor dal - 1/4 cup (Pigeon peas split and skinned)
Carrots, potatoes, beans, green peas - 1 bowl (Finely chopped)
Vegetable oil - 4 tbsp.
Mustard seeds - 1/2 tsp.
Cumin seeds - 1/2 tsp.
Dry red chilies - 5
Curry leaves - as per requirement
Tomato - 1 big (finely chopped)
Ginger and garlic paste - 1 tbsp.
Turmeric powder - 1/2 tsp.
Coriander powder - 1 tbsp.
Red chili powder - 2 tbsp.
Coconut - 1/2 cup (chopped) or 4 slices
Salt - as per taste
Water - as per requirement
Ghee - 2 tbsp.
Directions:
In a bowl take rice and dal, wash and soak it in water for about 10 minutes. Drain the water and keep it aside.
Add sliced coconuts and little water to the mixer and grind it to make a fine paste and keep it aside.
Place a pressure cooker on medium flame and add oil.
Once oil is hot add mustard seeds, when it starts to splutter add cumin seeds, red chilies, curry leaves and saute it well.
Now it's time to add ginger and garlic paste, saute it for a minute and add chopped tomato, chopped vegetables and saute the mixture for about 2 minutes.
Add turmeric powder, chili powder, coriander powder, ground coconut paste and salt to taste one by one. Saute all this mixture well.
Now add water to the proportion of 1:3. For one cup of rice it's 3 cups of water. And add rice and dal in the cooker. Stir it well for about a minute.
Place the lid on cooker. It should take approximately 10 minutes and 3 whistles for the rice to cook well.
It tastes good if the rice is overcooked. Remove the cooker from flame and add ghee on top of the rice.
Replace the contents to a flat bottom vessel and serve it hot.