Kiwi Malpua With Rabdi
Malpua is an Indian sweet dish that is basically a sugar syrup soaked pancake. I have added kiwi while making malpua and served with rabdi. #festiveRecipe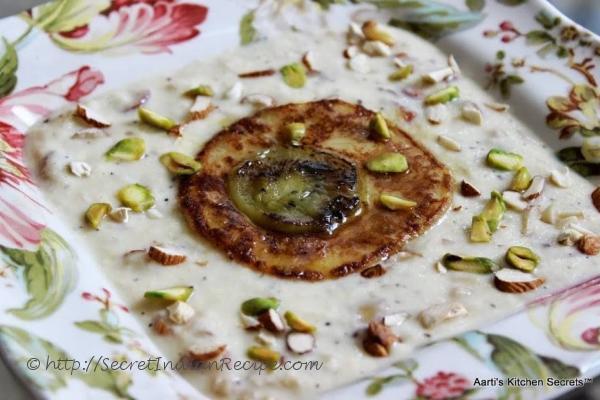 Ingredients:
Kiwi Fruit – 2 (peeled and cut into round slices)
Wheat Flour – ½ Cup
Mawa/Khoya – ½ Cup + 1/2 Cup
Fennel Seeds – ½ tsp
Ghee – 1 tsp
Oil/Ghee – to shallow fry
Salt – a pinch
Milk – 1 Cup + 4 Cups
Sugar – 1 ½ Cup + 4 to 5 tbsp
Water – 1 Cup
Green Cardamom Powder – ¼ tsp + 1/4 tsp
Saffron – Few Strands
Pistachios – 1 tbsp (chopped)
Almonds – 1 tbsp (chopped)
For Garnishing : Pistachios – 2 tsp (sliced), Almonds – 2 tsp (sliced)
Directions:
For Malpua : Take warm milk in a bowl and add 1/2 cup mawa into it. Mix well so that there are no lumps.
Add wheat flour slowly and keep mixing it with the other hand. The batter should be similar to idli batter or jalebi batter, in flowing consistency.
Add fennel seeds, salt and melted ghee. Mix well and keep this mixture aside for 10 – 15 mins.
Heat 1 tsp oil in a non stick pan. Put one slice of kiwi and topped with the 1 tbsp batter.
Cook it on medium low heat. When one side is cooked, flip the malpua to cook the other side.
For Sugar Syrup : Heat pan and add 1 1/2 cup sugar, water, 1/4 tsp green cardamom powder, saffron strands and make one thread sugar syrup.
For Rabdi : Take a heavy bottom pan and add milk. Keep stirring on low heat. Stir it till the quantity reduced to its half.
Add 1/4 tsp cardamom powder, 1/2 cup mawa, 4-5 tbsp sugar and stir it for 6-8 mins
Add pistachios and almonds and cook it for 1-2 mins.
For Garnishing : Put malpuas into the sugar syrup for 4-5 mins. Take them out.
In a serving plate add rabdi. Now place malpua over it and garnish with the sliced almonds and pistachios