Knol Curry/salagam Curry/olakoi Tarakari
This recipe is from Orissa. It is very easy to make and also very health.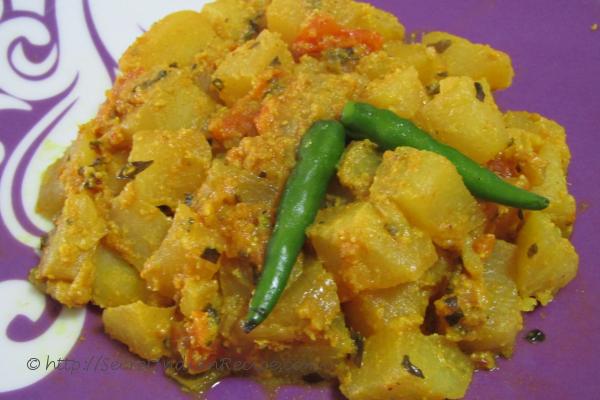 Ingredients:
1. 2 knol/salagam
2. 1 onion
3. 1 potato
4. 1 tomato
5. 2 tbps of poppy seeds
6. 1/2 tbps of cumine seeds
7. 2 cloves of garlic
8. 1/2 tps of turmaric powder
9. 2 tbps of oil
10.salt to taste
Directions:
Preparation: 1. cut knol and potato into small cubes. 2. cut onion and tomato into small pecies. 3. make a paste of poppy seeds,cumine seeds and garlic.
Method: 1. take a deep pan add oil. Once oil is hot add onion ,fry it for couple of mins. 2. add knol and potato , fry till it turn lightly golden brown. 3. now add paste of poppy seeds . 4. add cut tomato and 1 cup of water. 5.cover it for 8-9 mins
Footnotes:
Serve it with roti or rice.
Other Indian Recipes that you may Like !