Kobi Vadi (spicy Cabbage Pancake)
Baked or steamed starter or accompaniment of cabbage in gram flour base.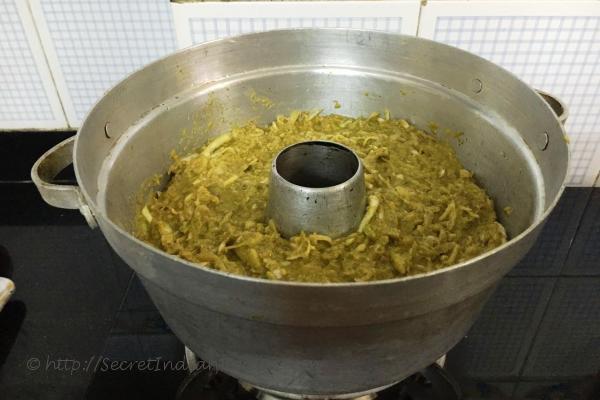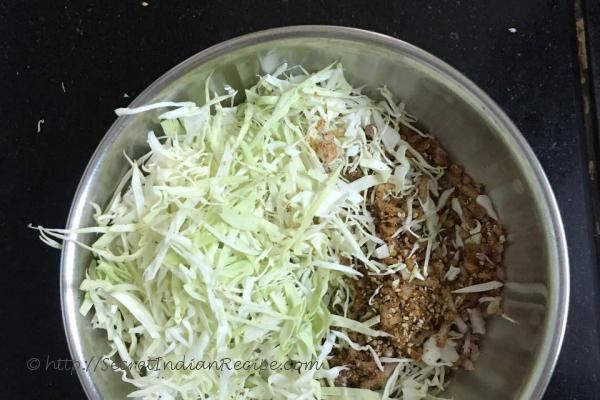 Ingredients:
I big bowl of finely cut / sliced Cabbage
4 tablespoon of fresh grated Coconut
5-6 Green Chilies
1 small bowl of chopped Coriander leaves
1 teaspoon – Coriander powder
1 teaspoon – Cumin powder
1 teaspoon – Garam masala powder
1 teaspoon – Turmeric powder
1 teaspoon – Sugar
1 teaspoon – Sesame seeds
8-10 tablespoon – Gram flour
2 tablespoon – Oil
Directions:
Grind coconut, green chilies and coriander leaves into a fine paste.
In a bowl or board pan mix the chopped cabbage, salt and turmeric powder.
Add coriander, cumin, garam masala, sugar, oil, sesame seeds and grounded paste and mix well.
Add the gram flour by sprinkling and mixing it continuously. Add water, if required to get a dropping consistency.
Place the mixture in a greased heavy bottom pan and bake for 40 min on low heat: preferably on a tawa.
Cut into pieces and serve with green coriander chutney, ketchup or home made butter.