Koldil Chicken (an Assamese Recipe Of Chicken Curry Cooked With Banana Flower)
Koldil is the Assamese name for banana flower and is a popular vegetable used in the Assamese cuisine. Koldil Chicken Curry is an authentic heirloom recipe from Assam. I came across this heirloom recipe from a food blogger hailing from Assam. There is a bit preparation required to prepared this curry pertaining to cleaning the banana flower. The cooking itself is very easy. I decided to try this heirloom recipe from Assam and it really went very well along with hot steaming rice for my lunch. I tried to prepare this heirloom recipe true to its authentic way. There might be variations and friends from Assam are most welcome to provide their feedback.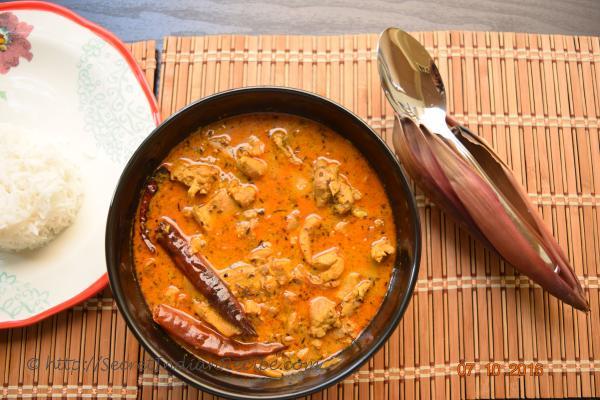 Ingredients:
3 Chicken thighs skinless (bone or boneless) cut into cubes
1 Banana flower
1 cup Curd
2 tbsp Mustard oil + 1 tsp Mustard oil for rubbing on hands
1 Bay leaf
1 inch Cinnamon stick
4-5 Cloves
3 Green Cardamom pods peeled and crushed
1 small Onion finely chopped
6-8 Garlic cloves peeled and finely chopped or grated
A knob of Ginger finely chopped or grated
4-6 dry Red chillies
3-4 Green Chillies slit vertically
1 tsp Turmeric powder
1 tsp Red chilli powder to add spice (adjust as per your taste)
1 tsp Kashmiri mirch powder (to add colour)
1 tsp Coriander powder (freshly ground or store bought)
1/2 tsp Garam masala
Salt as per taste
Directions:
Wash the banana flower. Peel and remove the outer leafs to get the white flowers inside. Continue to remove the bracts and collect the flowers till you reach the white yellow flower heart. Now collect all the flowers and put it in a bowl, add cold water and lemon juice to avoid discolouration of the flowers.
This step is bit tiresome but its worth the effort. This is cleaning of the flowers. Apply some mustard oil on your hands before you start cleaning to prevent any itching later on. Take a flower, open and observe inside. You will see a feathery plastic like petal back and a matchstick like stem inside the flower. Pull and remove both as these are inedible and will make the flowers bitter if not removed. Discard the plastic like petal and matchstick like stem and keep the rest of the flower. Repeat this for all the flowers. This will take some time. It took 40 minutes for me.
After cleaning all the flowers, finely chop them and keep them soaked in cold water with lemon until needed as they discolour quickly.
Marinate the chicken with half a teaspoon of turmeric, half a teaspoon of red chilli powder and little salt. Keep it aside.
Heat a wok and add mustard oil. When the oil is hot, add the bay leaf, cinnamon stick, crushed cardamom pods and cloves. Saute on low flame till you get the aroma of the spices. Now add the onion, ginger, garlic, dry red chillies and the green chillies. Saute on medium flame till the onions become brown, soft and translucent.
Beat the curd in a separate bowl. When the onions turn brown, add the beaten curd, half a teaspoon of turmeric powder, half a teaspoon of red chilli powder, kashmiri mirch powder, garam masala, coriander powder and salt as per taste. Stir and mix. Cook for 4-5 minutes on medium heat till you see the oil leaving the sides.
Drain and squeeze well the chopped banana flowers. Add the chopped banana flowers and the marinated chicken into the wok. Mix well. Cook on medium high heat for 4-5 minutes. Lower the heat. Cover and cook for 15-20 minutes or till the chicken is cooked.
Serve the koldil chicken hot as a side dish with rice.
Other Indian Recipes that you may Like !