Kolhapuri Matki Usal (moth Beans Cooked With Spices)
Kolhapuri dishes are known for their hot and spicy flavors, but very few know that if the spiciness is toned down the masala itself has a unique taste. This is an easy kolhapuri usal, but you may need to buy kolhapuri masala from an Indian store. You may also refer to the quick masala recipe in footnotes. This usal can also be used to make Kolhapuri misal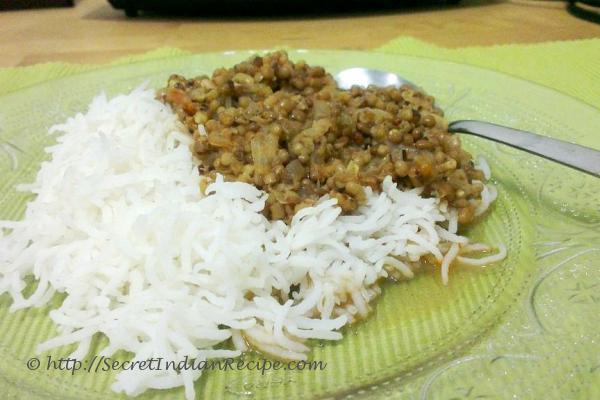 Ingredients:
3 Cups matki (soaked overnight)
5 Cups hot water
2 large Onions finely chopped
1 large tomato chopped
2 Tbsp Chopped coriander
2 Tsp Chili Powder
1 Tsp Ginger garlic paste
1 Tsp Turmeric
2 Tbsp Kolhapuri Masala (see footnotes for masala ingredients)
1 Tbsp Goda Masala (Maharshtrian masala/ Kala masala)
2 Tsp jaggery
1 Tsp Mustard seeds
1/2 tsp Heeng (asafoetida)
Salt to taste
Oil for cooking
Directions:
Heat 2 Tbsp oil in a deep pan or kadhai, when hot add mustard seeds, when they start to splutter add heeng, onions and stir fry for a few mins
Add turmeric, red chili powder a tsp of salt and mix for a minute. Add the ginger garlic paste followed by tomatoes. Stir well and add the kolhapuri masala.
Keep stirring till the masala comes together well. Now add the matki mix well and then pour in the water
Cook covered till the water is reduced to a saucy consistency and (about 15 minutes). Add the jaggery, Goda masala and chopped coriander, check for salt and adjust seasoning. (if a lot of water has evaporated you may add half a cup of more water)
Cook covered till the matki is well cooked and till you get a good saucy/gravy like consistency. garnish with more coriander and serve with hot steamed rice.
Footnotes:
Kolhapuri Masala: Dry roast jeera, dry shredded coconut, sesame seeds, black peppercorns, coriander seeds, cinnamon stick, cloves and fennel seeds till they are fragrant and change colour slightly, about 2 mins should be fine. Let it cool. Heat oil in a same pan and roast finely sliced onion and garlic till they are nicely browned and crisp. Set aside to cool completely. Now grind the two roasted mixtures to a fine powder. Add red chilli powder to the ground spice powder and mix them well. (Coconut should be about 2 tbsp rest all ingredients about 1 tsp)
If the masalas or not nicely browned and dry they will have a shorter shelf life.