Kolkata Special Posta Sandesh (poppy Seeds Coated Bengali Sweet)
Posta Sandesh is a very light dessert recipe from Bengal. I think, it evolved out of sheer love of Bengali people with their most commonly used ingredients- Posta and sandesh. Bengali recipes like jinge posto (ridgegourd with poppy seeds), macch posto (fish in poppy gravy), Aloo posto ( potatoes with poppy seeds) are very well known.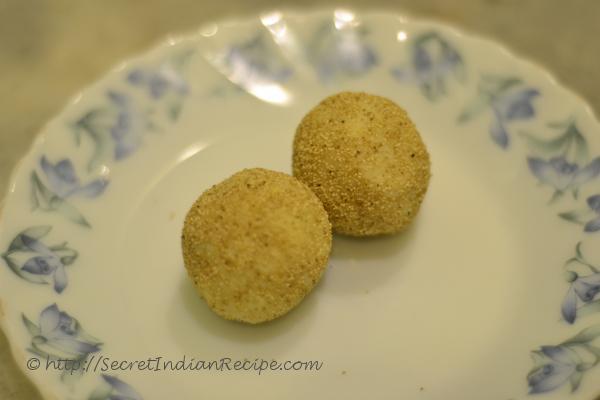 Ingredients:
Chenna (Cottage cheese)- 200 grams
Sugar - 4 tablespoon
Cardamom powder - 1/4 tablespoon
Posta (Poppy seeds) - 2 tablespoon
Directions:
Put the chenna over a piece of muslin cloth hold the ends tightly and keep it hanging for 30-40 minutes to drain the excess water.
Take the chenna out and put it in a large bowl. Mix sugar and keep aside.
Switch on the gas and heat a pan. Pour the chenna into this pan and sauté for 2-3 minutes on a low heat till the sugar dissolves . Add cardamom powder and mix.
Switch off the gas a let it cool a bit. Then knead the chenna till it turns into a soft dough.
Make small balls out of the chenna dough.
Again Heat a pan and roast the posta on low heat for a minute.
Now roll each chenna ball over the roasted posta and keep on a plate.
Posta sandesh is ready. It can be refrigerated for a week.
Footnotes:
It is better to make chenna at home than buying it from market.