Kolkata Special Vegetable Cutlet( Beetroot & Potato Snacks)
This is a snack recipe loaded with vegetables and as it is a Bengali recipe it has a dash of sweetness. The sweet and salty taste comes with correct seasoning.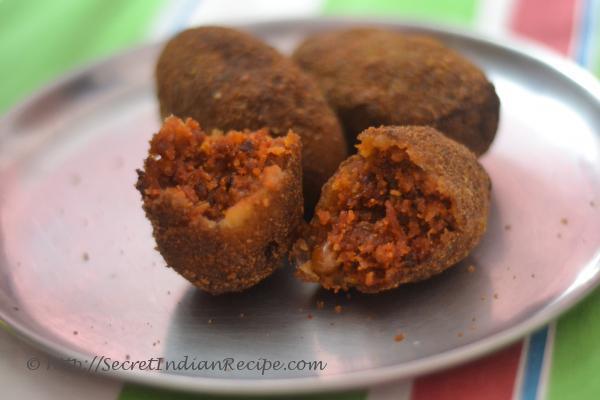 Ingredients:
Beetroot - 2 pieces
Potato - 2 piece
Carrot - 1 piece
Red chilli powder - 1/2 tablespoon
Garam masala powder - 1/2 tablespoon
Ginger paste - 1/2 tablespoon
Salt - 1/2 tablespoon
Sugar - 1/4 tablespoon
Besan - 4 tablespoon
Breadcrumbs - 2 tablespoon
Rock salt - 1/4 tablespoon
Refined Oil - 10 Ml
Directions:
Finely Chop beetroot, potato and carrots. Pressure cook them by adding very little water upto two whistles
Take the vegetables out and drain the excess water.
Mash boiled vegetables in a large bowl. Add ginger, red chili powder, garam masala , salt, sugar and mix well.
Make small longitudinal shape cutlets and keep aside.
Make a thin batter of besan and pour the bread crumbs over a plate.
Heat oil in a karahi for deep frying . Dip each cutlet in besan batter, roll it over bread crumbs and fry in hot oil till they turn golden brown.
Finally sprinkle some roack salt or black salt and serve hot.
Footnotes:
Do not over boil the vegetables as it can be difficult to bind them together. If the veggies become mushy, add some maida in the vegetable mash.