Kollikappa Varuthathu (spicy Tapioca Fries)
I don't see this type of spicy tapioca fry in any other parts of Kerala other than Alappuzha district. This is a variety preparation both in its taste and its shape. This can be prepared easily with just four ingredients. So I think those who would like to try variety recipes will surely love it.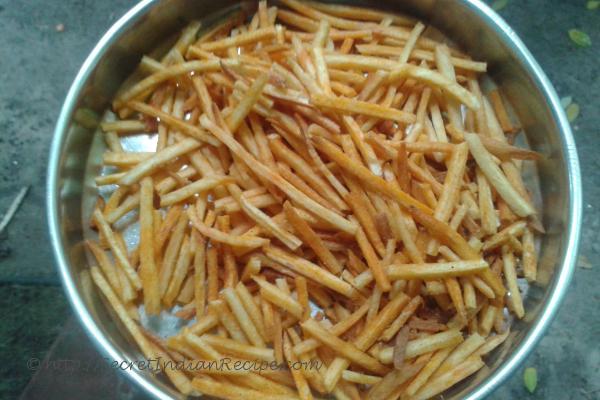 Ingredients:
Tapioca-1 kg
Oil- to deep fry
Salt-as you need
Water-5 tablespoon
Chilli powder-2 tablespoon
Directions:
Peel off the outer skin of tapioca and wash it.
Cut into thin slices with 4 cm of length.
Mix together salt and water and keep it aside.
Place a thick bottomed pan on the stove. Switch on the stove and heat the oil.
When the oil is heated up, add the already sliced tapioca into the oil and fry it until it reaches light brown color. Take out the excess oil.
Now pour the salted water over the fried tapioca.
Cook on medium flame and allow all the water to get evaporated.
Now add chilli powder to it and cook on low heat for few seconds.
Enjoy it with a cup of black tea.
Footnotes:
This can be used as a teatime snack or a side dish or as an appetizer.