Kollu Rasam-horse Gram Soup
Horse gram has many nutritional values. It's rich in taste and helps in reducing weight.
Our Siddha and Ayurveda medicine believes that Horse gram can give enormous strength to the person when consumed regularly. We prepare this dish twice a month for its numerous medicinal values.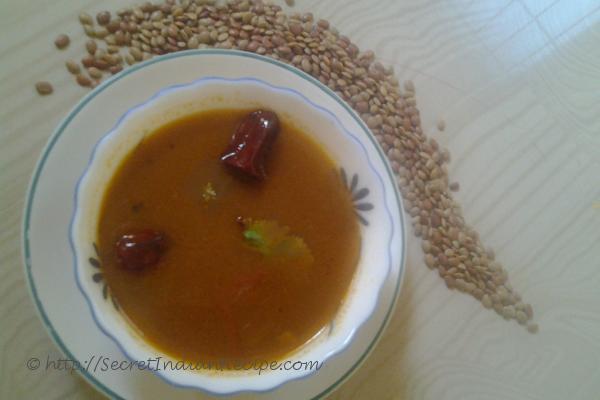 Ingredients:
Horse Gram (Kollu)-200 grams
Onion-2 Chopped
Tomatoes -2 finely chopped
Tamarind paste - 2 tbsp.
Dry Red Chilies -2
Turmeric powder - 1/4 tsp.
Coriander powder - 1/2 tsp.
Pepper powder or Crushed pepper - 1/4 tsp.
Cumin Powder - 1 tbsp.
Garlic pods - 5 Crushed
Curry Leaves
Coriander leaves - chopped
Vegetable oil - 1tbsp.
Salt as per taste
Water - 4 cups apprx.500 ml.
Directions:
Soak the Horse gram in water for one day or soak it overnight.
Pressure cook the horse gram for about 8 whistles and preserve the water.
Place a pan on flame and add a tbsp. of vegetable oil, curry leaves, crushed garlic and dry red chilies
Add chopped onions and saute it till it turns golden brown. Once the onion turns the colour, add chopped tomatoes, pepper powder, cumin seeds powder, coriander powder and turmeric powder.
Saute the mixture for two minutes till tomatoes become soft, and then add the tamarind paste or tamarind juice and pour the water which was used to boil horse gram.
You may add a cup of extra water if required. Add the horse gram and salt and leave it for 2-5 minutes in medium flame.
Add finely chopped coriander leaves and remove the soup from flame.
You may serve this with rice or drink as a soup.
Footnotes:
After seasoning the soup should not be left on flame for long time as the taste of tamarind water will change, so remove the soup from flame when it starts to boil.