Komola Sundoori ( Orange Ka Roll )
Just we left Valentine day , this year my valentines my beloved one lovely lady who is sweet 102 years old my Grandma ......... She is owesome ......... She love to make us lots of Bangladeshi Sweet .......... So this year I prepare her signature sweet dish which she is prepare every year in this winter season .........
And she will Happy and Impressed ..............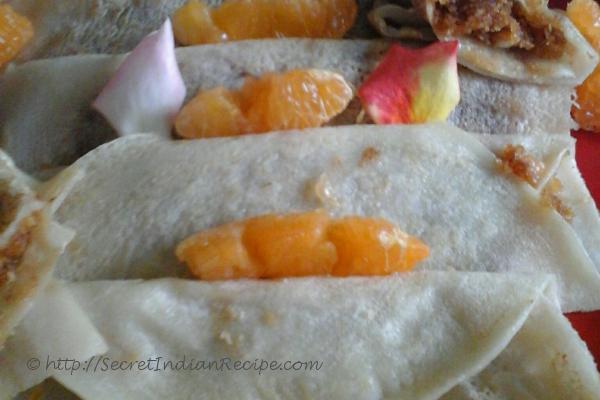 Ingredients:
250 - gm semolina or sooji
400 - gm maida
200 - gm plam jaggery or brown sugar
250 - gm khoya
200 - gm grated coconut
3 - tablespoons cooking oil
500 - litre orange juice
250 - litres milk
A pinch of salt
For gressing the pan a piece of eggplant or bottle gourd
Directions:
Heat in a pan add the khowa , greated coconut and jaggery or brown sugar. Stir continuously until the mixture attains a consistency thick .
In a mixing bowl add maida and semolina mix with orange juice and milk gradually to make a thick batter.
Heat the frying pan and coat the surface of the pan with little oil . Apply oil with a piece of eggplant or bottle gourd .
Pour the orangey batter about 4 - 5 tablespoons on the hot pan and spread the mix on the pan till it takes a circular shape .
Put about 2 tablespoons of the khowa coconut mix on the over the spread .
Roll the spread like bread roll after 15 - 20 second , keep the roll on the pan and flip sides every 5 - 10 second till it turns brownish .
Serve Kamola Sundoori hot or cold and enjoy ................