Konthiya Kari Cutlet - Minced Mutton Cutlet
This recipe can be served as evening snack or as a side dish with lunch. The best part is, it doesn't require much oil and you can just prepare this recipe on a frying pan. I prepare this once in a week. This preparation tastes best in Goat Meat than Lamb Meat.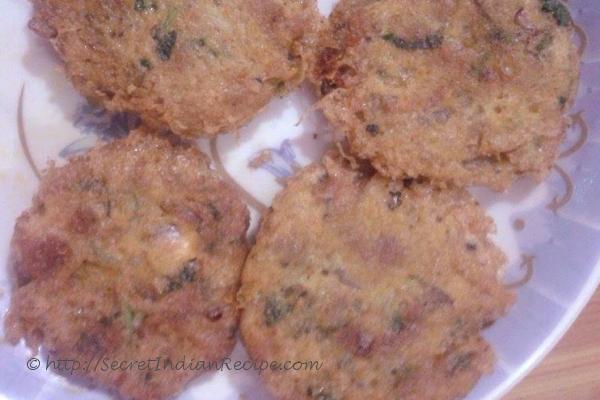 Ingredients:
Minced Lamb (Mutton) - 500 grams
Potatoes - 200 grams
Onion - 2 Chopped
Chili powder - 2 tbsp.
Turmeric powder - 1/2 tsp.
Garam masala powder - 1/2 tsp. (Indian spice powder)
Coriander Leaves - Finely chopped
Eggs - 2
Salt as per taste
Ginger & Garlic paste - 1 tbsp.
Pepper powder - 1/2 tsp.
Vegetable oil - 1/4 litre if Deep Fry (10 tbsp. if Shallow Fry)
Cinnamon sticks - 2 small
Directions:
Wash the Minced Meat and pressure cook it along with salt, pinch of Turmeric powder and Cinnamon sticks. Once it's cooked keep it aside. The approximate cooking time is 3 to 4 whistles in pressure cooker.
Boil potatoes and peel the skin. Mash it with spatula and keep it aside.
Mix mashed potatoes and boiled Mutton, along with Chili powder, pinch of Turmeric powder , Garam masala powder, ginger & garlic paste, chopped coriander leaves and keep aside.
Take a small bowl add Eggs, salt, a pinch of turmeric powder, and 1/2 tsp. of pepper powder beat the eggs and keep it aside.
Take a handful of minced meat mixture and make it into round shape or shapes of your choice.
To shallow fry place a pan on flame add 5 tbsp. of vegetable oil and dip the shaped meat in beaten egg and place it one by one on the pan.
After it turns brown on one side turn it to other side.
Once it turns golden brown on both sides, remove it from pan and place on tissue paper to remove excess oil.
Serve it with tomato sauce, white sauce or Pudina Chutney.
Footnotes:
You may choose to deep fry the cutlets. For that you have to place the pan, add oil and fry the cutlets but I prefer shallow fry as it consumes less oil.
Other Indian Recipes that you may Like !