Koonthal /kanava Roast (squid Roast)
Squid and prawns are abundant in our state. However, the best quality of these fish is being exported to foreign countries, and so it is unavailable to the ordinary people like us. Last Friday, one of our family friends who owns an exporting firm, had gifted us with a huge block of frozen, first-quality squid, which are always being exported. So we made a variety of dishes with these fresh squids. While I share this recipe with you, I would also like to thank our friend for such a delicious gift.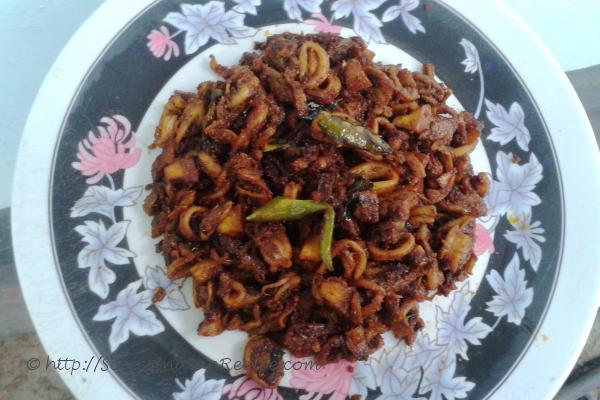 Ingredients:
Squid - 500 grams.
Red chilli powder - 2 teaspoons.
Turmeric powder - 1/4 teaspoon.
Onion, chopped - 1 large.
Garlic - 4 or 5 cloves.
Ginger, chopped - one small piece.
Green chilli - 2 or 3 nos.
Tomato, chopped - 2 nos.
Black pepper powder - 1, 1/2 teaspoons.
Garam masala - 1/2 teaspoon.
Curry leaves - 2 sprigs.
Salt - as you need.
Coconut oil - 5 tablespoons.
Directions:
Clean and cut the squid into round pieces.
Switch on the stove and place a pressure cooker on the stove.
Add the squid along with 1 teaspoon of chilli powder, salt, pepper powder, 1/4 teaspoon of garam masala, one cup of water and turmeric powder.
Cook it until you hear 5 whistles or when the squid is cooked.
Remove the lid of the pressure cooker and see if there is any water left, If so then increase the flame and allow the excess water to evaporate.
In a frying pan, add 3 tablespoons of oil and heat it.
Into the oil, add the sliced onion, green chilli, garlic, ginger, curry leaves and sauté it until it reaches a light brown colour.
Then add the remaining chilli powder into it and sauté it until the raw flavour is gone.
Add the chopped tomatoes into it and sauté it well.
Add the remaining masalas into the tomatoes and sauté it until its raw flavour is gone.
Then put the already cooked squid into the tomatoes and mix it well.
Saute it for about 15-20 minutes in low flame.
Pour the remaining oil into it to make the roast.
Koonthal roast is ready to serve.
Other Indian Recipes that you may Like !