Koonthal / Kanava Varuthathu (squid Fry)
The dishes prepared with koondal are always my favourite. Koodal or squid is a rare fish that we get in our area. We use to prepare a variety of dishes with squid, and now I would like to share one such recipe with you. The combination of coconut slices and ginger garlic paste gives this squid fry a different and spicy taste. This is one of the specialities of local toddy shops in Kerala and is locally known as 'shap curry'. Try it and I am damn sure that you will lick your fingers when you taste it.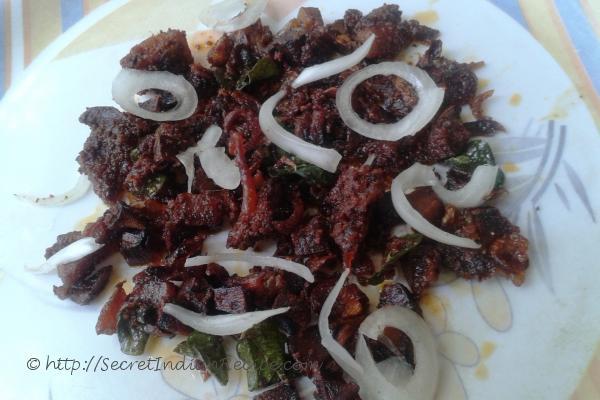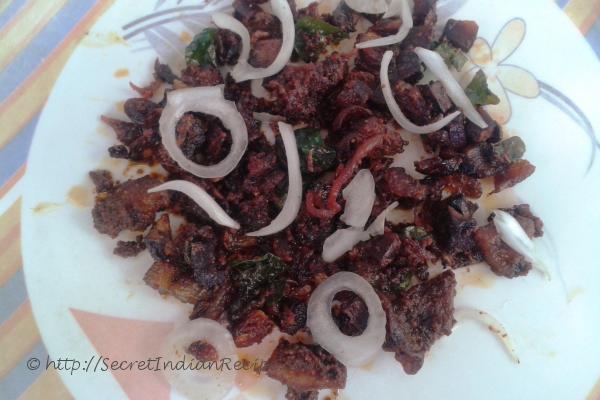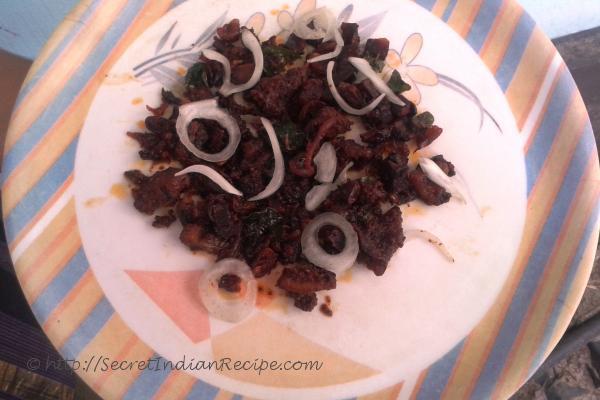 Ingredients:
Squid cleaned and cut-1 cup.
Coconut slices -1/4 cup.
Chilli powder -2 teaspoons.
Small onion, chopped - 5 nos.
Turmeric powder - 1/4 teaspoon.
Curry leaves-1 sprig.
Salt-as you need.
Ginger-garlic paste - 1/2 teaspoon.
Oil-5 tablespoons.
Garam masala powder -1/4 teaspoon (optional).
Directions:
Clean and cut the squid into small round pieces.
Switch on the stove and place a pressure cooker on the stove.
Cook the squid along with water and salt in the pressure cooker until you hear at least 5 whistles.
Take a bowl and mix together ginger-garlic paste, chilli powder, and turmeric powder.
You can also add garam masala powder to marinate. (I don't use masala powder since I don't like the taste of masala powder).
Add the already cooked squid into this paste and marinate it for about 30 minutes.
Place a frying pan on the stove.
Add oil into the pan and heat it.
When the oil is hot, add the marinated squid along with curry leaves and coconut slices into the pan.
Fry it covered otherwise the squid will burst out.
Stir occasionally.
When it is half done, add the small onion into it and fry the squid until it is crispy.
Remove it from flame and serve hot.
Footnotes:
If the squid is over cooked it will change into a rubbery texture.
While cleaning the squid, you should be very careful that you should not break the ink sac of the squid: otherwise it will destroy the taste of the curry.
Other Indian Recipes that you may Like !