Koorka Irachi (chinese Potato Cooked With Pork)
Koorka also known as Chinese potato is a tuber found in Kerala that resembles colocasia (arbi). I do not know if any other states in India use these potatoes in their cuisine. So I was surprised to learn that there existed an English name for these tubers and it was Chinese potato. These tubers have a strong muddy flavor and therefore are not preferred by many. In our family we cook these potatoes with meat. This is to flavor the potatoes with meat and make it more receptive to one's taste buds. Pork and beef goes well with this tuber.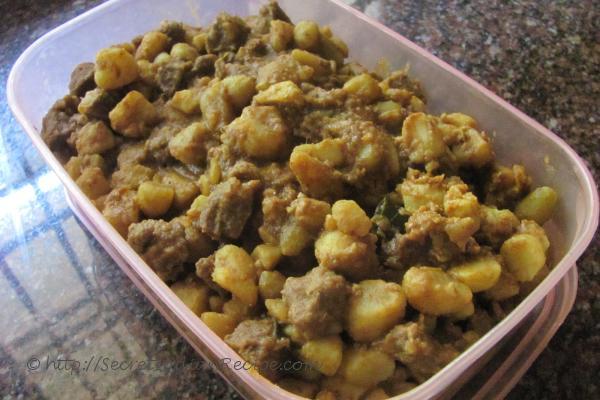 Ingredients:
Chinese potato- 350 g
Pork- 250 g
Shallots- 50 g
Garlic- 50 g
Curry leaves- 1 sprig
Ginger- 1/2 inch piece
Turmeric powder- 1 tsp
Coriander powder- 1 tbsp
Garam masala- 1 tsp
Chilli powder- 2 tsp
Salt- to taste
Oil- 4 tbsp
Directions:
Boil the Chinese potatoes and peel off the skin. Some prefer cleaning the potatoes by scraping the skin but this leaves stains on one's hands.
Marinate the pork with the spice powders and salt and pressure cook it till it is cooked.
In a pan heat some oil and saute the curry leaves followed by minced shallots and garlic till they brown.
Add the sliced ginger and saute for 4 minutes. Now add the sliced potatoes, cooked pork along with the stock from cooking the pork.
Add a little garam masala again and salt if needed. Let the potatoes and pork simmer in the gravy.
This is a semi gravy dish so when the curry becomes thick take it off the flame. Serve with rice.
Other Indian Recipes that you may Like !