Koorka Varatharacha Curry (chinese Potatoes Cooked With Roasted Coconut Gravy)
The Koorka season has begun and I got these fresh ones from the Kerala- Karnataka borders. And I must say they taste so pure and earthy. My immediate tendency when I get a bag full of these is to cook it with meat but I am trying to go the vegetarian mode so cooked it in the traditional roasted coconut gravy.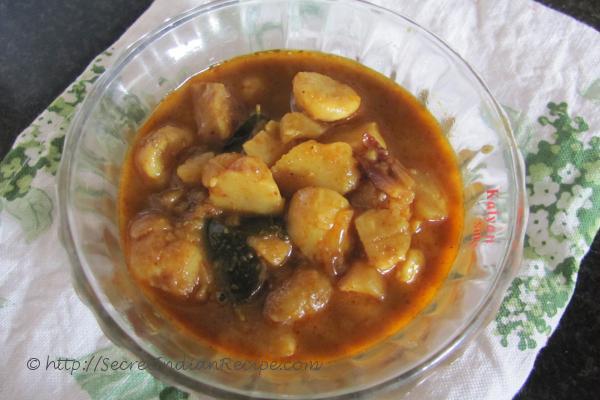 Ingredients:
Koorka- ½ kg
Onion- 1
Green chilies- 3
Garlic- 5 pods
Curry leaves – 1 sprig
Ginger- 1 inch piece
Oil- 3 tbsp
Salt- to taste
Vinegar- 1 tsp
Coriander powder- 1 tbsp
Chili powder- 1 tsp
Turmeric powder- 1 tsp
Garam masala- 1 tsp
Dry chilies- 1
Mustard seeds- a pinch
Roasted coconut- 6 tbsp
Directions:
Pressure cook the chinese potatoes after washing them thoroughly. These potatoes are very muddy so wash them properly before cooking.
Once pressure-cooked,peel these potatoes. Wash them again because the mud from skin can dirty them during peeling.
Mince the garlic. In a pan heat some oil add the mustard seeds, dry chilies and curry leaves.
Once the mustard seeds splutter add the garlic followed by green chilies and chopped onions. Saute till the onions brown.
Now add the spice powders and saute till the raw smell goes away.
To the spices add the chinese potatoes and salt. Cook them over low flame with 1/4 cup of water.
Add the vinegar and cook for 5 more minutes. To this curry add 6 tbsp roasted coconut ground into a paste with 1/4 cup of water.
Let the curry simmer for 5 minutes and it is ready.
Footnotes:
To roast the coconut heat it in a pan till the coconut turns dark brown. See that you do not burn the coconut. Grind the coconut to a fine paste with water.