Kothamalli Thengaaracha Meen Varuthathu (fish Fry In Coriander Coconut Masala)
A variation of the patrani machi in Kerala style. Ideally suitable for white chunky fishes like pomfret, kingfish or mackerel. My mom usually bakes this fish but I fried it this time. The paste used in this recipe can be used as chutney spread for sandwiches as well. And meat cooked in this gravy tastes great too.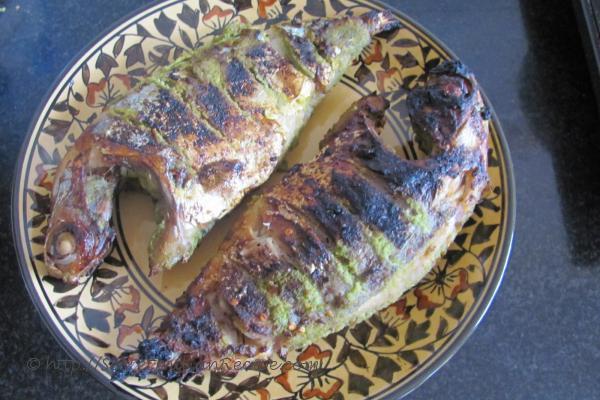 Ingredients:
Kingfish- 2 small ones
Coconut- 1 cup grated
Garlic- 8 pods
Ginger- 1 inch piece
Green chilies- 5
Mint leaves- 1/4 cup
Coriander leaves- 1/2 cup
Lemon juice- 2 tbsp
Sugar- a pinch
Salt - to taste
Oil- for frying
Directions:
Cut and clean the fish. Marinate the fish with a ground paste made from the ingredients mentioned above.
Marinate the fish overnight and fry in a shallow pan till crisp.
Adding a few tbsp of curd and a piece of cinnamon and 3 peppercorns would enhance the flavour.
Steaming this fish wrapped in banana leaf is a healthy way of eating it too.
Other Indian Recipes that you may Like !