Kothimbir Vadi /coriander Nuggets
This is my favorite snack. I prefer them steamed but you can also fry them (if you prefer) after steaming and cutting them.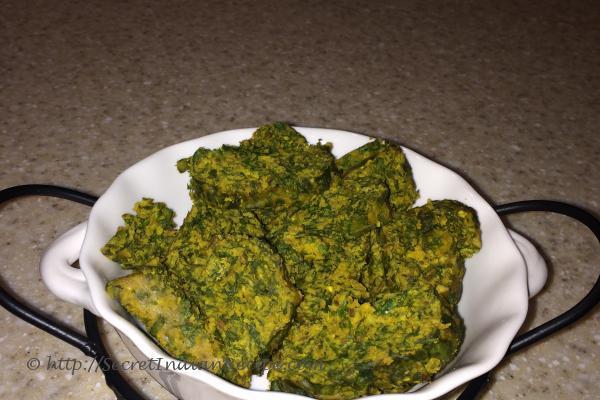 Ingredients:
One average bunch fresh coriander leaves
2 tsp ginger and garlic paste
1/2tsp chili powder (or to taste)
1/2tsp cumin seeds
2tbsp tamarind juice
Salt to taste
2tbsp rice flour
Channa flour as needed to make dough (see tip)
Directions:
Clean the coriander leaves and take only the leaves and very tender stems. Chop finely
Add all the rest of the ingredients and make dough like that of chapatti.
Roll into 2inch thick roll and steam for 25 minutes.
Insert a long needle into it to test if it is done all the way. The needle should come out clean with no batter sticking to it. If not steam for another 5 minutes.
Once cold, cut into ½ inch thick slices and serve with tea or just as a snack. It is also a good appetizer
Footnotes:
Use the course besan flour used to make besan ladoos to give it texture.
Add water only as needed or you will not be able to roll it.