Kozhi Achar (chicken Pickle)
Non vegetarian pickles are my refuge when I am lazy to cook and in mood for some non veg. We pickle beef and fish once in a year and try to follow a vegetarian diet as much as possible only that we intersperse our meals with a non veg pickle. This version of the chicken pickle is a mix of Kerala and Andhra flavors.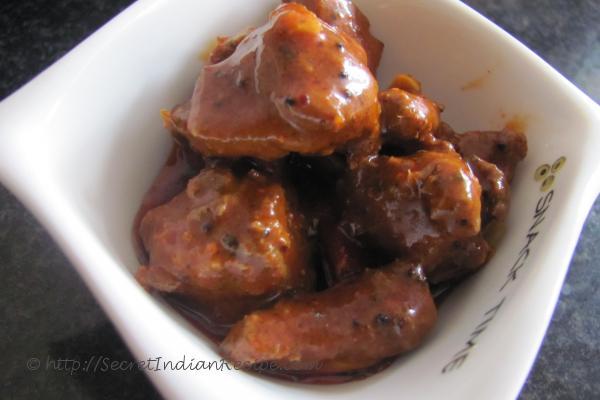 Ingredients:
Chicken- 500 g
Chili powder- 1 tbsp + 3 tbsp
Kashmiri Chili powder- 3 tbsp
Turmeric powder- 2 tsp + 1 tbsp
Pepper crushed- 1 tbsp + 5tbsp
Garam masala- 2tsp
Ginger- 2 inch piece
Garlic- 15-16 pods
Mustard seeds- 1tsp
Gingelly oil- 1 cup + 4 cup
Vinegar- 200 ml
Salt- 3 tbsp
Directions:
Marinate the chicken with salt, pepper powder, garam masala, chili and turmeric powder. Let it rest for an hour.
Deep fry the chicken pieces in 1 cup of oil and drain them.
Heat oil in another pan and add the mustard seeds. Once they splutter add the thinly sliced ginger strips and garlic.
Fry the ginger and garlic till they turn golden.
Now add the spice powders and saute them, do not burn the spices.
Boil salt and vinegar in 2 cups of water and keep it aside.
To the sauted pickle spices add the fried chicken and mix well with spices.
Pour in the boiled water which has salt and vinegar into the pickle and let it boil with the pickle for 3 minutes.
Store in sterile bottles. See that the oil tops the chicken.
If you find the oil is less in the pickled bottle heat some oil separately and let it cool down and pour into the bottles so that the oil stands over the pickle.
Other Indian Recipes that you may Like !