Kozhi Ishtu (chicken Cooked In Coconut Milk)
My mom's side of the family prepares a kind of chicken curry in coconut milk that they refer to as Ishtu. Ishtu is a colloquial way of pronouncing stew which is a Portuguese influenced preparation of meat and vegetables stewed together. But the typical Kerala stew has vegetables and meat cooked in light coconut milk and whole spices and hence the curry is white. The version of my mom's side adds no whole spices and uses turmeric and coriander powder lending the curry a yellow colour. It also does a tempering at the end something that I find unique in non-veg preparations. And it is mandatory to add potatoes alone to this curry which is why I like this curry. We have it with rice, rotis, appams and puttu. It is mildly spiced and has a strong coconut flavour.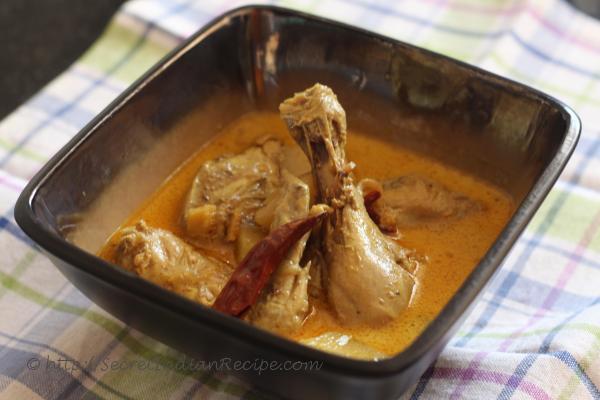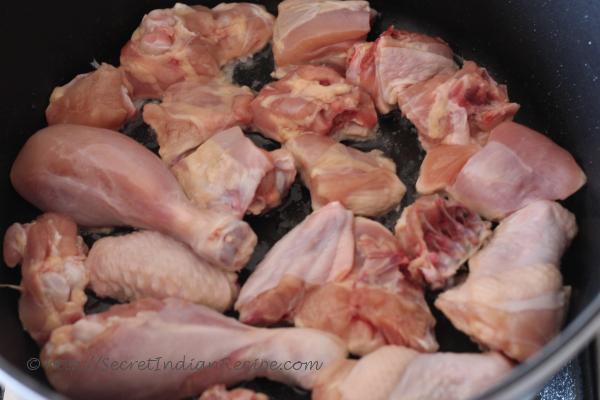 Ingredients:
Chicken- 1 kg
Onion-2
Ginger- 1 inch piece
Curry leaves- 1 sprig
Green Chilies- 6
Turmeric powder- 1/2 tsp
Coriander powder- 1 tbsp
Garam masala- a pinch
Salt- to taste
Coconut oil- 4 tbsp
Dry chilies- 4
Shallots- 6
Thin coconut milk- 1 cup
Thick coconut milk- 2 cups
Potatoes- 2
Directions:
Clean and wash the chicken. In a bowl mix all the spice powders with a tbsp of water and mix them together. Keep this bowl aside.
Now to prepare coconut milk- grate 1 whole coconut and run the grated coconut in a mixie with 2-3 tbsp of water. Extract the milk b passing this mixture through a sieve you will get thick coconut milk keep this aside.
Now add water to the extracted coconut pith that is left from extraction of thick coconut milk. You can add 1 cup of water to this and knead it to get more milk.
Pass this grated coconut again, through a sieve and you will get a thick coconut milk. Keep this aside too.
Heat 3 tbsp oil and add chopped onion, curry leaves, ginger and green chilies. Saute till the onions brown.
Once the onions have browned add the spice paste prepared ahead. Saute the onions with spices till they leave a roasted aroma. Now add the chicken and diced potatoes.
Add salt and thin coconut milk and bring the curry to a boil. Let it cook over low flame for 10 minutes. After 10 minutes check how cooked the potatoes and chicken are.
Once well cooked add the thick coconut milk and bring the curry to a final boil and switch off the flame. Do not cook after you add the thick coconut milk.
For tempering in a small pan heat 1 tbsp oil and add curry leaves and dry chilies and once they have fried add the chopped shallots. When shallots brown, add the tempering over the curry.
Footnotes:
If you want to avoid the extraction of milk process add 2-4 packets of nestle's coconut milk powder as per instructions on the package and add it to the curry. Skip 1st milk and 2nd milk process if you do this. Pour 2 packets and cook chicken and then pour the other 2 packets and bring curry to final boil.
Other Indian Recipes that you may Like !