Kozhi Karal Curry (chicken Liver Curry)
Liver curry is an exquisite delicacy in Kerala. In olden days according to my mother the only occasion where one ended up with a lot of liver was when the family gathered for celebrations like festivals and weddings. Then a lot of hens would be slaughtered and cooked in the backyard of the house of the bride or bridegroom. And what would one do with so many livers? This curry was made then on the wedding eve for the guests who attended the wedding eve ceremonies. Maybe this was also part of the cost cutting because serving chicken and other meats on wedding eve was indeed an added expense. And since the ingredients were purchased by the family themselves rather being outsourced to a caterer, the head of the family saw to it that nothing was wasted. These days' caterers buy cut pieces for wedding banquet and ordering a liver curry is considered exotic. But with the advent of malls selling meats and their various cuts exclusively procuring liver and gizzard has become easier. So occasionally when I miss the good old days I get some liver and prepare this curry.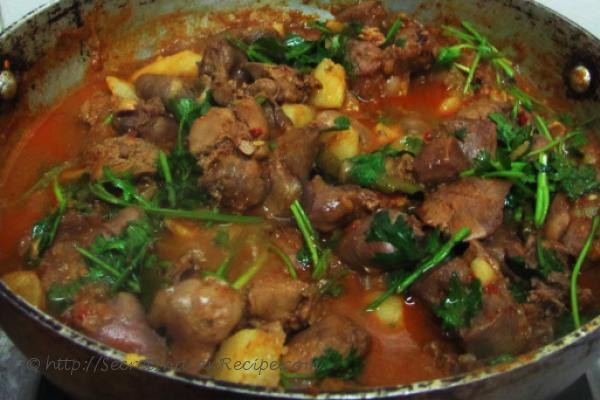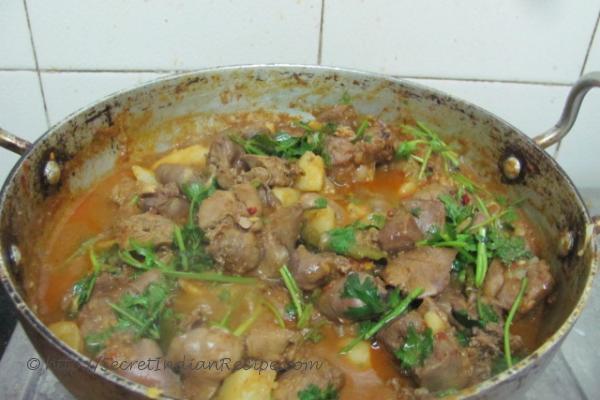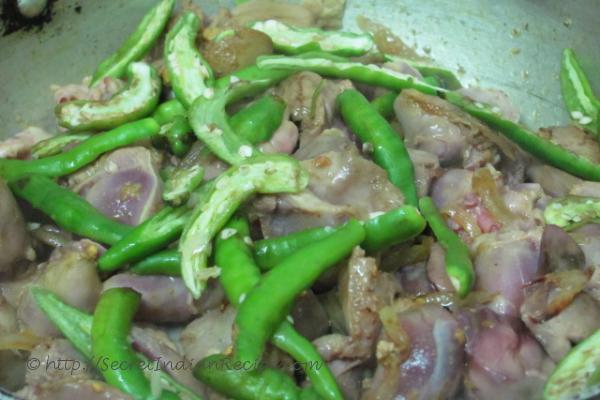 Ingredients:
Chicken Liver- 500 g
Gizzard- 100 g
Onions- 2
Garlic- 10 cloves
Ginger- 1 inch piece
Tomatoes- 3
Turmeric powder- 1/2 tsp
Chili powder- 2 tsp
Coriander powder- 1 tbsp
Garam Masala- 1 tsp
Salt- to taste
Vinegar- 1 tsp
Oil- 2 tbsp
Coriander leaves- 1 sprig
Crushed pepper- 2 tbsp
Directions:
Clean the gizzard and liver by peeling the white skin off the gizzard. Sometimes we grill the gizzard over fire for 3 minutes before cooking.
Wash the liver and gizzard thoroughly and set them over a colander so the water is drained. The next step is optional.
Grill the gizzard over fire for 2-3 minutes to take off the outer skin.
Heat the oil and add the minced ginger and garlic. When the ginger garlic browns add the liver and gizzard immediately.
Saute the liver for 5 minutes and now add the slit chilies, onions and all the spice powders. Cover the liver with a lid and cook for 2- 3 minutes.
When you open after 5 minutes the liver would have cooked partially but the gizzard would still need some time. Add the chopped tomatoes, vinegar and salt.
Cook without the lid for another 5-8 minutes. Garnish with coriander leaves and the liver is ready to serve.
The last step is sprinkling crushed pepper this is intentionally added in a slightly large proportion to impart more flavor so the more the better. Serve with rice, rotis and even bread.
Other Indian Recipes that you may Like !