Kozhi Nirachathu (malabar Stuffed Chicken)
A very popular recipe of the Kerala Moplahs (muslims), this recipe is majestic in its appearance, flavors and the method it necessitates. Lavished with butter and stuffing it is a pure delight to one's taste buds. I have used mushrooms for stuffing though traditionally boiled eggs with masala is used.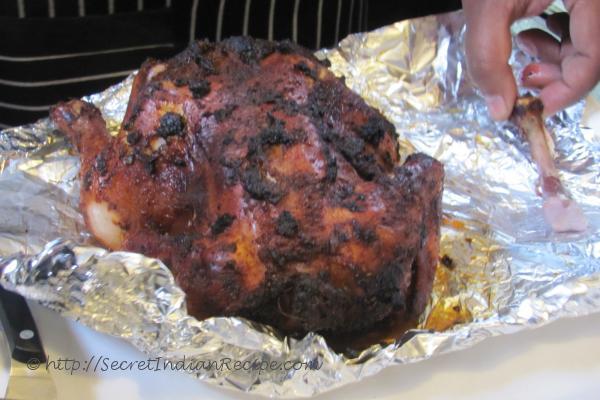 Ingredients:
Chicken- 1 kg ( whole chicken and not cut)
Lemon- 1
Red Chili powder- 1 tsp
Ginger- garlic paste- 3 tbsp
Tandoori chicken masala- 2 tbsp
Salt- to taste
Oil- 1 tbsp
Coriander leaves- 2 tbsp
Chopped Onion- 4 tbsp
Sliced Mushrooms- 3 tbsp
Green chilies- 1
Garam Masala powder- ¼ tsp
Cashew nuts- 3 tsp
Raisins—1 tsp
Curry powder- 2 tsp
Salt - to taste
Oil- 2 tsp
Butter- 100 g
Directions:
Marinate the whole chicken for 2 hrs with the ginger garlic paste, lemon juice, red chili powder, tandoori chicken masala, oil and salt.
Prepare the stuffing by mixing the chopped onions, green chilies, chopped coriander, red chili powder, sliced mushrooms, garam masala powder, curry masala powder, chopped cashews and raisins , salt and oil.
Stuff this mixture into the cavity of the chicken.
Put the butter inside the chicken under the chicken skin.
Tie together the chicken legs and wings with the twine. Saw the opened portion on the chicken with a bamboo stick.
Baste the chicken with lots of oil.
Grill the chicken for 45 minutes at 220 degrees or shallow fry in hot oil.
Another way of cooking this chicken would be shallow frying it for 20 minutes and grilling it for 20 minutes.
Footnotes:
The traditional way of cooking this chicken uses boiled eggs with gravy as a stuffing, I omitted eggs and added mushrooms instead.
Other Indian Recipes that you may Like !