Kozhukatta (steamed Rice Dumplings With Coconut Stuffing)
This is a traditional dessert or breakfast recipe in Kerala. It is a sweet dish and can be prepared in a number of ways. This is mainly prepared during the Easter days in Christian families in Kerala. It is my all-time favourite dish.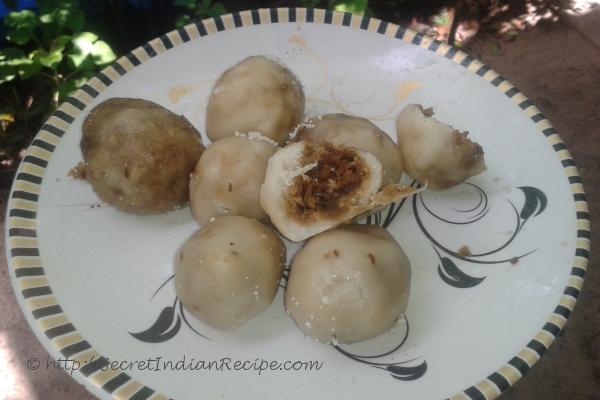 Ingredients:
Rice flour-1 cup
Jaggery-100 grams
Grated coconut-1 cup
Crushed cardamom-2 (optional)
Cumin seeds-1 pinch (optional)
Boiling water- as needed to make soft dough.
Salt –as you need (a pinch to balance the taste).
Ghee - 1 tablespoon.
Directions:
In a bowl, mix together, grated coconut, jaggery and crushed cardamom.
Switch on the stove and place a vessel on the stove.
Boil water along with salt and cumin seeds in the vessel.
Then in another bowl, add the above boiled water little by little to the rice flour to make soft dough.
Add ghee to it to make it extra smooth.
Then make medium-sized balls with this dough and flatten them with your palm.
Then fill it with the mixture (grated coconut, jaggery and cardamom).
Reshape it into a ball.
Then steam it in a steamer or idly cooker for about 15-20 minutes.
Sweet kozhikatta is ready.
Footnotes:
You can use sugar instead of jaggery.