Kudampuli Meencurry (fish Curry With Malabar Tamarind)
It is a traditional dish of central Kerala. It is very spicy and is usually served along with rice.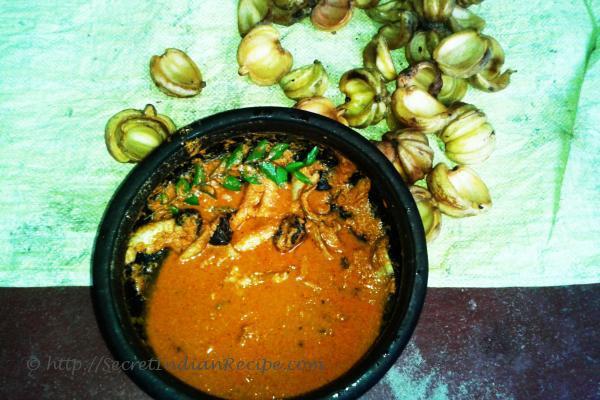 Ingredients:
Fish -medium sized 4 numbers
Grated coconut -1 cup (half of a coconut)
Chilli powder -3 heaped teaspoon
Coriander powder -1/4 teaspoon
Turmeric powder -3 pinch
Salt -as per your requirement
Green chilli - 5 nos.
Curry leaves -2 sprigs
Malabar tamarind or kudampuli-2 or 3 pieces
Coconut oil 2 tablespoon
Directions:
First clean and cut the fish into small or medium sized pieces.
Make small cuts in the fish pieces so that Masala enter into the fish to make the curry tastier.
Grind together all the ingredients (Grated coconut, Chilli powder, Coriander powder, Turmeric powder) until it make a smooth paste.
Then mix this paste and fish along with green chilli, curry leaves, Malabar tamarind or kudampuli and salt and add water to it in an earthen pot.
The mixture should be loose and thin, but not too watery.
Switch on the stove and place an earthen pot on the stove.
Using earthen pot for preparing the curry increases the taste of the curry.
The flame should be high till the curry boils.
After the curry boils, pour the coconut oil to it.
After pouring oil keep it for 5 minutes
Then reduce the flame.
Then gently swirl the pot (Don't stir the curry).
When the curry becomes thick enough remove it from flame.
Tip: If the curry becomes too thick pour a little water and just boil it. Note: For some fishes (will be cooked soon) put the fishes only the mixture comes to boil.
Enjoy with rice or kappa (tapioca).
Footnotes:
This is the traditional fish curry in central Kerala. Malabar tamarind can be replaced raw mangoes Enjoy it and make a comment.
Other Indian Recipes that you may Like !