Kukkur Roganjos Chicken
It is a Kashmiri dish but famous all over India for its simple procedure and Taste.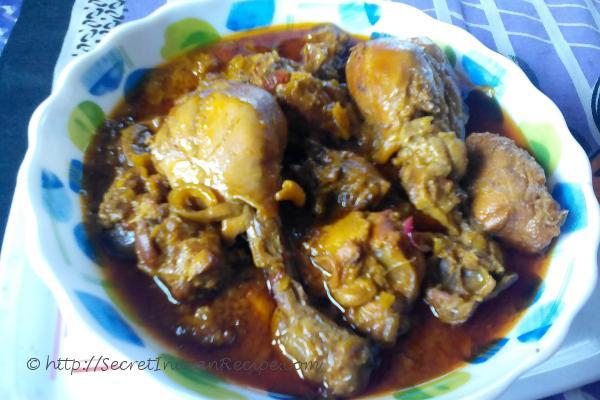 Ingredients:
Chicken Leg piece- 2nos.
Chopped onion- 300g
Ginger paste- 2tsp
Garlic paste- 2tsp
Fennel powder- 1tsp
Curd- 5tsp
Clove- 5pcs
Pepper whole- 4pcs
Black Cardamom- 2nos
Cinnamon- 3bark
Oil- 50ml
Red Chilli powder- 2tsp
Salt & Sugar- to taste
Directions:
Heat the oil in a pan and add chicken with onion and fry till golden brown.
Now make a paste or powder of all the above spices mentioned.
Now bit the curd with the spices powder and chilli powder.
Then add the curd to the chicken and cook well.
Now add the salt and sugar and mix well.
When oil starts coming out from the sides, add 2 cup of water and close the lid.
When the curry becomes thick, Serve hot.
Footnotes:
First roast all the spices in a dry pan and then grind it. This roasting will increase the flavor.
Other Indian Recipes that you may Like !