Kulith Pithale
This is Marathi (Konkani ) recipe. Besan Pithale is common recipe in Marathi household.Many people unaware of Kulith Pithale.Try this new recipe.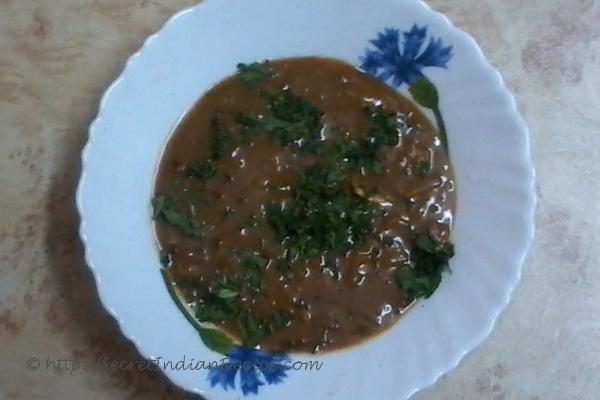 Ingredients:
Half bowl of Kulith flour ,4-5 green chilies finely chopped, 2-3 garlic cloves finely chopped, 1 medium size onion finely chopped,1 tsp Jeera (Cumin seed), Dry coconut ¼ bowl, Salt (as per your taste), coriander leaves for garnishing, Oil,
Hing (Asafetida) , 2 Amsul (dried kokum), Curry leaves, Water.
Directions:
1)Take dry coconut and Cumin seeds and roast them separately without oil. And then grind them together. 2)Take Kulith flour & add 1 bowl water. Make a batter. Avoid lumps. 3)Heat a pan on a medium heat. Add 3-4 tsp. of oil. Add Green Chilies & Garlic. then add Mustard seed Curry leaves. After they sputter add Pinch of Hing, Turmeric. Then add chopped onion. Roast well till it becomes golden brown. Then add coconut Cumin seeds mixture to it and again roast well.4) Add 3 bowls of water & let it boil. Add 2 Amsul (kokum) in to boiling water. 5) Then add kulith batter keep stirring continuously to avoid lumps. 6) Let Pithal boil for 10 minutes Then turn off the gas. 7) Garnish it with coriander leaves & Serve hot it with Rice, or Rice Bhakari or Chapati.
Footnotes:
8) Kulith (Horse gram, kulthi bean, hurali, Madras gram) is popular in south India & available in any grocery shop. Roast Kulith without oil & make a flour. Kulith generates heat in body. So, it is a winter special recipe.