Kumbalanga Curry (ash Gourd Curry)
Ash gourd is considered beneficial for irritable tummies. In our childhood we were made to drink ash gourd juice for this purpose. It soothes your tummy said mom. We use ash gourd mainly in sambar, avial and moru curries. This is a rare curry that not many try at homes. It is a recipe from my grandmother. People who hail from Thrissur call this curry Olan though rest of Kerala calls the cowpea- ash gourd curry as olan. But since the rest of Kerala does not accept this curry as olan I call it kumbalanga curry.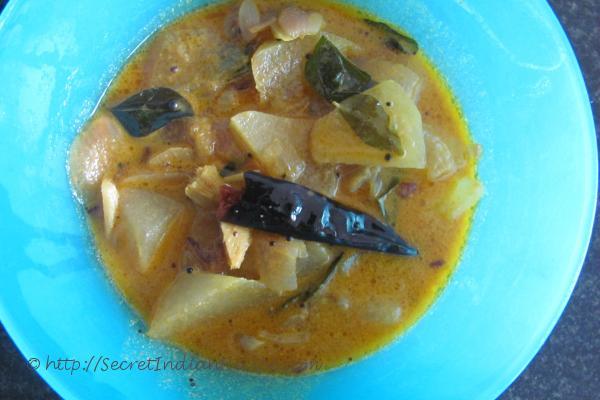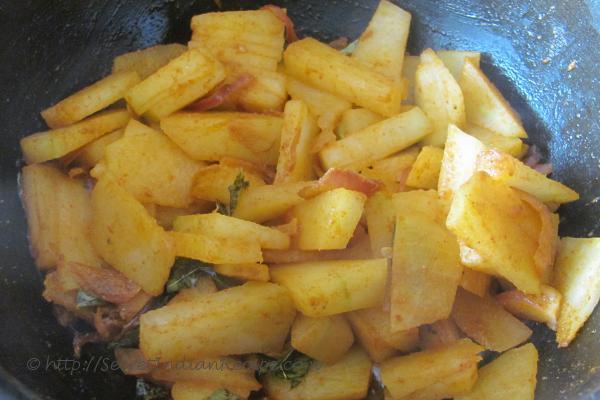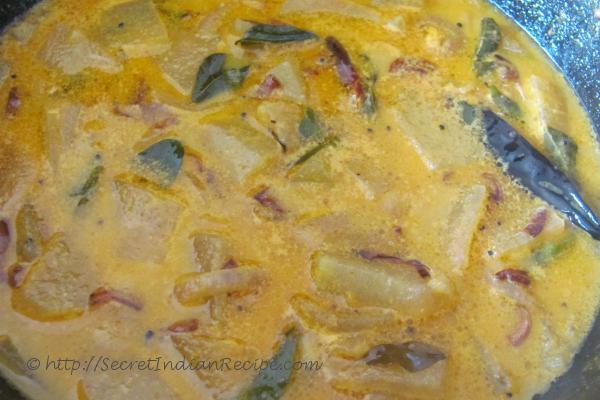 Ingredients:
Ash gourd- 200 g
Onion- 1
Green chilies- 2
Ginger- 1 inch piece
Curry leaves- 1 sprig
Vinegar- 1 tsp
Coconut milk- 2 cups
Shallots- 10
Dry chilies- 2
Mustard seeds- 1 tsp
Turmeric powder- 1/2 tsp
Coriander powder- 1 tsp
Chili powder- 1 tsp
Salt to taste
Coconut oil- 2 tbsp
Curry leaves- 1 sprig
Water- 1 cup
Directions:
Clean the scales of the ash gourd. Remove the seeds if any and chop them up finely.
Heat 1 tbsp oil in a pan and add the mustard seeds and dry chilies along with curry leaves.
Once the mustard seeds splutter add the finely chopped onion, ginger and green chilies.
Saute till the onions brown and add the spice powders.
After sauteing the powders for 2 minutes add the ash gourd pieces and saute for 2 minutes. Add the water and bring the curry to a boil.
Cook the curry over low flame with a lid on the pan.
After the ash gourd is cooked add salt and stir well.
Now add the coconut milk. Once you add the coconut milk bring the curry to boil and switch off in 3 minutes.
Chop the shallots finely and fry it using the remaining 1 tbsp coconut oil in another pan till its brown and crisp.
Temper the ash gourd curry with fried shallots and the curry is ready to be served.
Footnotes:
I used instant coconut milk powder. Empty a 200 g sachet into 1/2 cup of warm water and that would suffice for this curry.
If you want to use original coconut milk which definitely accentuates the flavor grate 1 coconut and grind it with 1/2 cup water in a grinder. Extract milk by passing the ground coconut through a sieve and that would be your original coconut milk.