Kumbalanga Moru Curry (ashgourd Cooked In Buttermilk)
In Kerala buttermilk in curry form is consumed in many ways. The least elaborate form is pachamoru and sambaram which is like a chaas where buttermilk is tempered with shallots, ginger and assorted spices. The next version is moru curry. In this form, buttermilk is tempered and boiled hence has turmeric to give it the yellow appearance. A wide range of vegetables are also added in this preparation. Brinjal, lady's finger, pumpkin, pineapple and papaya are few vegetables used in moru curry. The most common vegetable is ash gourd however. And when grated coconut is ground and added to this preparation it is called a pulissery. This is the least elaborate recipe and has no coconut in it.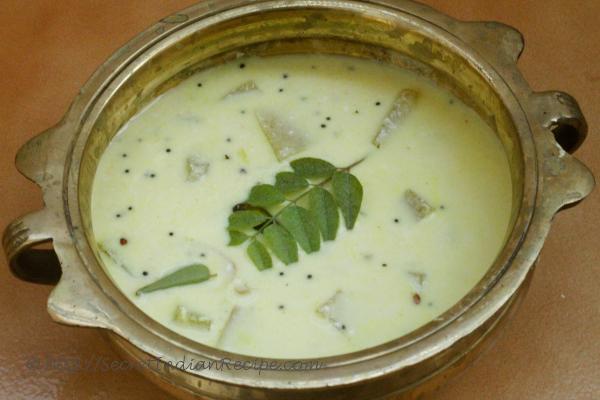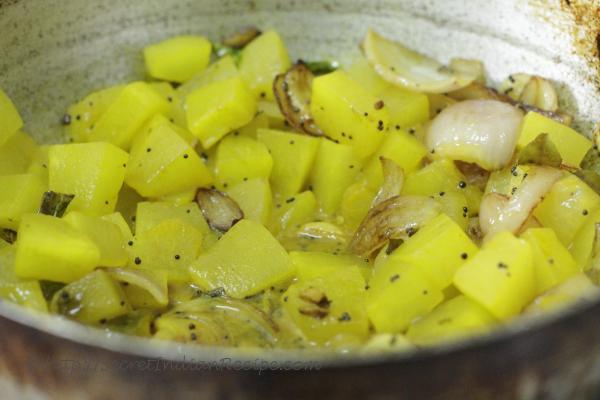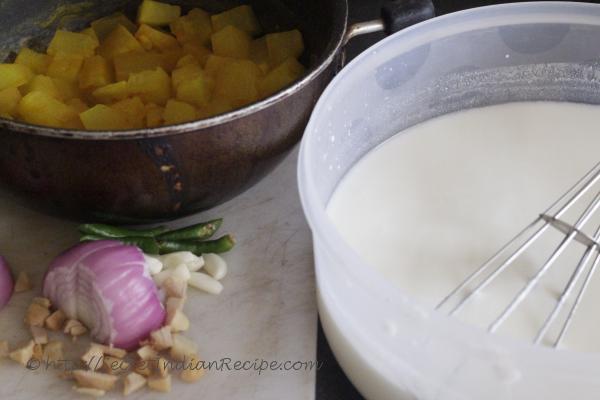 Ingredients:
Ash gourd- 200 g
Curd- 600 ml
Onion-1
Green Chilies- 4
Garlic- 6-7 cloves
Ginger- 1/2 inch long piece
Curry leaves- 1 sprig
Fenugreek seeds- 1 tsp
Mustard seeds- 1 tsp
Turmeric powder- 1/2 tsp
Asafoetida- 1/2 tsp
Salt- to taste
Oil- 1 tbsp
Dry chilies- 3
Directions:
Peel and cube the ash gourd into medium size pieces. Cook the ash gourd with a pinch of turmeric powder, salt and 1 cup water till its cooked.
Chop the onions, ginger, garlic and green chilies into long strips. Whisk the curd with salt in a bowl.
Let the cooked ash gourd cool down and add it to the whisked curd. Now start a wok for tempering.
Heat a wok and add the mustard seeds first. As the mustard splutters, throw in the fenugreek seeds, curry leaves and dry chilies.
Add chopped onions, ginger, green chilies and garlic to the tempering and saute till the onion browns. Add turmeric powder and asafoetida and saute for 2 minutes.
Add this tempering to the bowl with curd and ash gourd and stir continuously.
Return the contents in the bowl back into the wok and heat the moru at low flame for 2 minutes. Serve with rice and stir fry.