Kumro Aar Poi Sager Chorchori (red Pumpkin And Pohi Green Fry).
A Bengali delicacy, better known as chigri and Poi sager chorchori, a non vegetarian version, wherein fried Shrimps are added to enhance the taste of the curry. Today, I am presenting the vegetarian version, which has more vegetables and the touch of typical Bengali Seasoning ingredient - Paanch Phoren. Paanch phoren is a mix of five spices – Saunf (Fennel seeds), Meethi ( Fenugreek), Kallonji (Onion seeds), Ajwain and Mustard seeds. It is also called Panchmel sabzi or Five mixed sabzi as it contains five vegetables – Potato, Pumpkin, Brinjal, Pointed Gourd and Pohi Greens. There by It is a fibre rich recipe.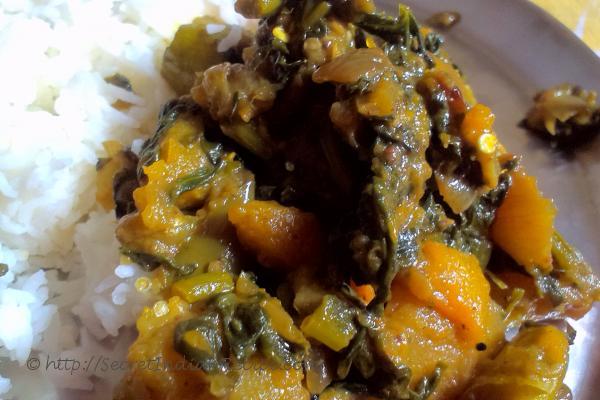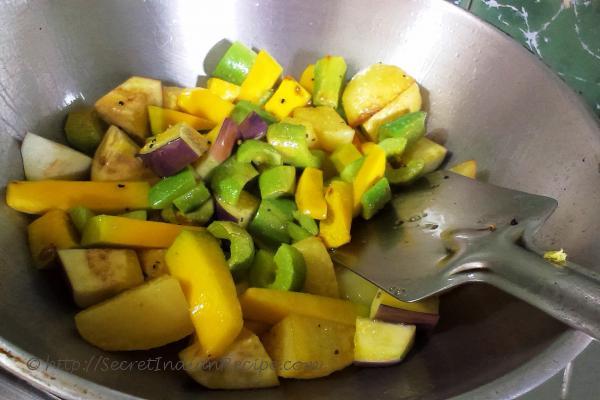 Ingredients:
Poi sag (Pohi Greens) – 500 grams
Kumro (Red Pumpkin) – 150 grams
Begun (Brinjal) – 100 grams
Potol (Pointed Gourd) – 100 Grams
Aloo (Potato) – 2 medium Sized
Paanch phoren – ½ tablespoon
Onion – 2 medium sized
Ginger and garlic paste – 2 tablespoon
Red Chili paste – ½ tablespoon
Turmeric powder – ½ tablespoon
Garam masala powder –1/4 tablespoon
Salt – as per your taste
Sugar – ½ tablespoon
Mustard oil – 5 tablespoon
Directions:
Wash the vegetables (Pumpkin, Brinjal, Potato and Ponited gourd) and chop in small size. Wash the poi saag and chop the leaves finely. The tender steams are also edible, so just peel the outer skin and then cut them in 2 inch pieces)
Afterwards, heat oil in a pan and add panchphoren. As the seeds crackle, add the chopped potatoes and let them fry on medium heat till they start turning golden brown. Then add chopped pumpkins, brinjal and pointed gourd and let them also fry for 6-7 mintues. As the veggies start turning bown, take then out on a plate.
In the remaining oil, add chopped onions and let them brown. Then add ginger- garlic paste, red chili paste and turmeric powder. Turn the flame down and fry the masala on low heat till oil separates from the masala.
Now add the chopped Poi saag, the fried vegetables, salt, sugar and garam masala and mix carefully.
Cover the pan with a lid and let the veggies cook on low flame for about 20 mintues. You need not add any water as the water relased by poi saag and pumpkin will help the veggies to become tender. Stir the veggies in between.
After 20 mintues, check if the veggies are cooked. Increase the flame if there is any water in the curry. As all the water evaporates, switch off the gas. Check the seasoning and serve it hot with steamed rice.