Kuthiravali Thayir Sadam/barnyard Millet Curd Rice
Barnyard Millet curd rice is made using barnyard millet and tastes delicious just like normal curd rice and even more healthy. India is the world's largest producer of millet and millet has numerous health benefits. My mom taught me a lot of things about cooking traditional Tamil Nadu (South Indian) food. Millet is one of the most ancient food or grains used in olden days especially in traditional homes in Tamil Nadu.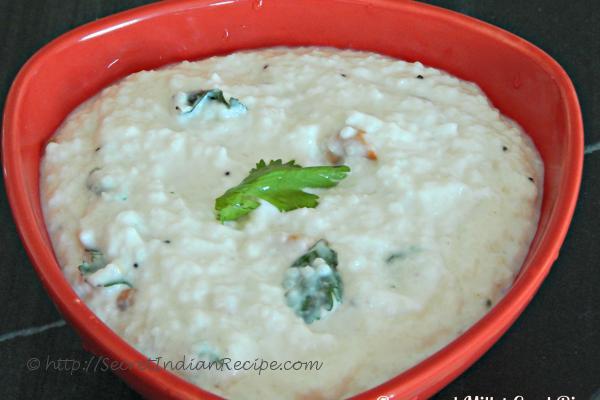 Ingredients:
Barnyard Millet - 1 cup
Water - 3 cups
Curd - 1 cup
Milk - 2 cups
Coriander leaves - To garnish
Salt - To taste
Oil - 2 tbsp
Mustard seeds - 1 tsp
Urad dal - 1 tsp
Asafoetida/Hing - A pinch
Grated ginger - 1 tsp
Green chilli - 1, finely chopped
Curry leaves - Few
Directions:
Boil 3 cups of water in a sauce pan.
Wash the millet and add to the boiling water. Water stops to boil after the millet is added. When the water boils again reduce to low flame. Add salt and cook until mushy.
Cool down and add milk to it. Mix and mash well without any lumps. Then add curd and mix well. Adjust salt to taste.
Now heat oil in a small pan and add mustard seeds. When the mustard seeds start to splutter add urad dal and fry until light brown. Add a pinch of hing, grated ginger, green chilli and curry leaves. Fry for few seconds.
Add the seasoning to the rice. Garnish with coriander leaves and serve with pickle.
Footnotes:
You can also garnish the dish with freshly grated carrot, roasted cashews and fresh fruits like grapes and pomegranate to enhance the taste and flavor and to be more healthy.