Kuttanadan Tharavu Mappas (kuttanadan Style Duck Curry)
Duck meat is a Syrian Christian's delight and specialty of my community (Syrian Christians). But it is quite commonly cooked in the region of Kuttanad in Allepey district in Kerala than where I grew up (Cochin). Kuttanad is known for its scenic backwaters and houseboats also known as 'kettuvalams'. People relish the pearl spot fish curry and duck curry prepared in these house boats and enjoy these visits. Personally I have never been on the house boat though everyone else in my family has been there. But this recipe of duck curry- it is something we cook for Easter and I guess my mother picked it up from recipe books or friends of hers from the Kuttanad region. Ideally duck should be cooked in a open pan slowly for hours, so that the juices from the meat and gravy cook together to perfection. But this wastes gas and is a long process so I have used the pressure cooker method.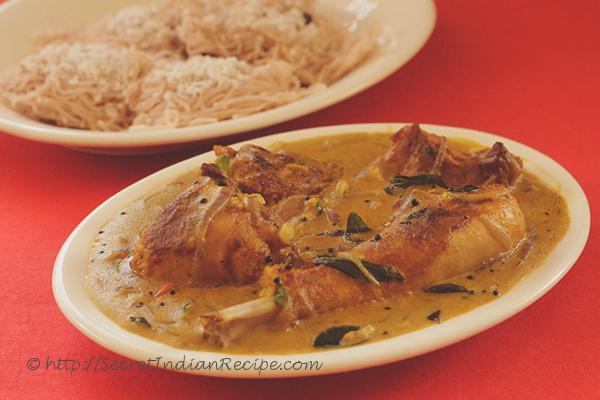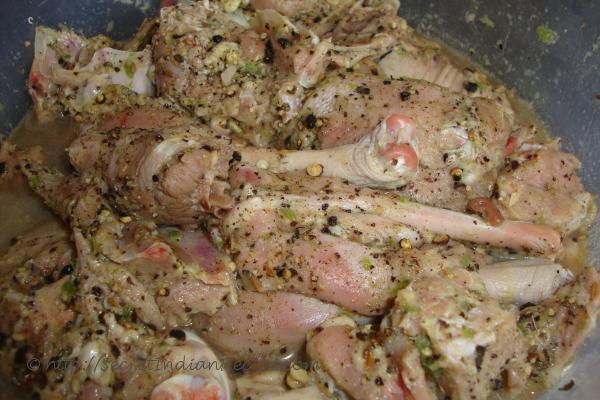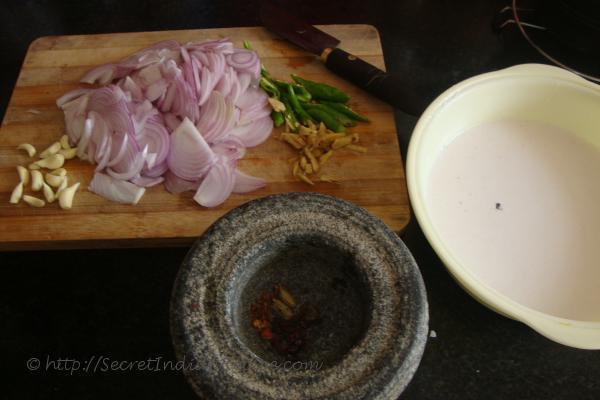 Ingredients:
Duck- 1.5 kg
Pepper powder- 1 tsp
Turmeric powder- 1/2 tsp
Salt- taste
Chili powder- 1 tsp
Coriander powder- 1 tbsp
Garam Masala- 1 tsp( for serving in the end)
Cinnamon stick- 1 inch long piece
Cloves- 4
Cardamom- 2
Peppercorns- 1/2 tsp
Fennel- 1/2 tsp
Star anise- 1
Onions sliced- 2 cups
Ginger- 1 inch long piece
Peeled garlic- 1/4 cup
Curry leaves- 1 sprig
Green chilies- 4
Coconut oil- 2 tbsp
Thick coconut milk- 1 cup
Thin coconut milk- 2 cups
Pepper powder- 1 tsp (for serving)
Vinegar- 1 tsp
Hot water- 1 cup
Directions:
Marinate the duck with salt, turmeric and pepper powder. Refrigerate the duck meat in marinade overnight.
Dry roast all whole spices in a wok (fennel, star anise, cardamom, peppercorns, cloves) and grind them to a fine powder.
Heat oil in a pressure cooker and saute the curry leaves along with green chilies and sliced onions.
When the onions start to brown, add minced ginger and garlic and saute till they brown. Add the freshly ground spice mix along with chili powder and coriander powder.
Saute for 3-4 minutes and add the marinated duck pieces. Saute the duck in spices for 5 minutes and then add the vinegar.
Add the thin coconut milk and 1 cup hot water. Pressure-cook the duck up to 2 whistles.
When the pressure settles, open the cooker and check if the duck meat has cooked. Some meat takes more time, in such situation pressure cook for 1 more whistle.
When the duck meat has cooked satisfactorily bring it to final boil and add the thick coconut milk.
Add the pepper powder and garam masala set aside for final touches before serving and bring the curry to final boil.
Serve with rice, bread, rotis, appams or idiyappams.
Footnotes:
I used 2 maggi coconut milk packets for thin milk and 4 more for thick milk. The normal method would be to grate 1 coconut and run it in a processor with little water first. The milk you extract after this is thick coconut milk. Then add some more water to the squeezed coconut and run it again in a processor. The milk you extract now will be the thin coconut milk.
Other Indian Recipes that you may Like !