Kuzhalappam (cylindrical Rice Snack)
Kuzhalappam or kozhalappam is a pipe shaped fried snack traditionally made in Christian households in Kerala. This does not mean the other communities dont make this but if you ever happen to visit a christian house for a gathering and if they have a granny alive, you will be force fed this :) Now a days this dish is vanishing from households and is made and sold commercially in bakeries to preserve this recipe. Ideally it is made using a pipe like instrument which we have in our traditional ancestral home hence the name. You can fry them as balls or make flat discs and roll them into small logs and fry them as well.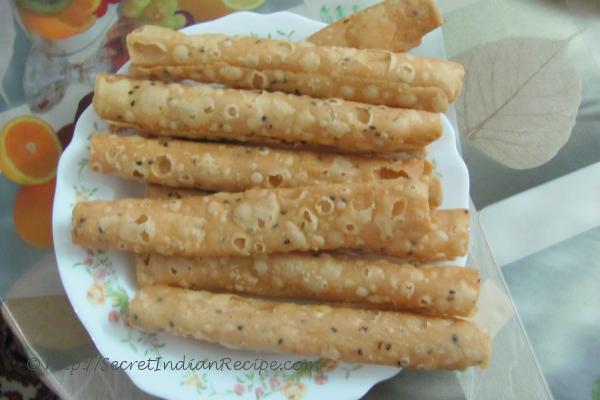 Ingredients:
Rice flour- 1 1/2 cups
Grated coconut- 1 cup + 2 tbsp
Shallots- 8- 10
Garlic- 3-4 pods
Black sesame seeds- 3/4 tbsp
Cumin seeds- 1/2 tsp
Thick coconut milk- 1/2 cup
Oil for frying
Salt to taste
Directions:
Grind the shallots and garlic,along with 2 tbsp grated coconut and water. Grind these ingredients to a smooth paste.
Add salt to this ground paste and mix it with thick coconut milk. Combine the grated coconut and rice flour and roast this mixture in a pan.
Once well roasted add the ground mix to this and a cup of hot water. Knead this mixture for 3-4 minutes.
Let this dough rest.Cover it with a damp cloth for half an hour.
Make small balls out of the dough and roll them using a rolling pin. Do this on a silicone mat or plastic wrap to avoid the dough from sticking.
If you have the rod used for making this appam you need to wet your hand and place a lump over the rod and try shaping it around the rod such that a cylindrical shape emerges.
If you do not have a rod make small discs roll it such that it forms cylindrical shape and drop it into a wok with hot oil.
Fry the kozhalappams till they are golden brown. Store in an airtight container. They last up to a year.