La Jawab Biriyani
Biriyani is of great demand in India and Bengal as well. Thus this made me to think and experiment in an easier Bengali method.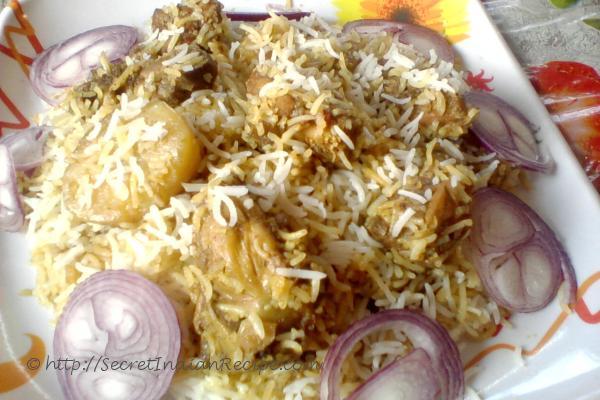 Ingredients:
Chicken(cut into large pieces)- 750g
Basmati Rice-500g
Curd- 100g
Ginger+garlic+green chilli paste-5 tablesp
Onion paste- 150g
Onion chopped- 150g
White oil- 150ml
Ghee- 150g
Garam Masala- 2tablesp
Potato(cut in halves)- 8pcs
Nutmeg(Jaifal)+Jaitri- 1tsp
Saffron- 1pinch Dipped in 1/2 cup Milk
Keora+Rose water- 2tsp each
Salt & Sugar- To taste
Water- As required
Directions:
Marinate the chicken with curd,onion,ginger,garlic & chilli paste for an hour.
Now, half boil the rice and keep aside.
In a pressure cooker,add oil(100ml) and ghee(50ml) and fry chopped onion till golden brown and keep aside.
In the same oil,fry the 1/2 cut potatoes to brown and then add the marinated chicken and cook well for sometime.
Now add some water,sugar & salt to taste and again cook for few minutes.
Now close the lid and keep it till 1 whistle.
Now,in a deep bottom pan grease the surface with ghee and spread the rice uniformly.
Then add the chicken along with gravy in the second layer and sprinkle a pinch of garam masala and jaifal+jaitri powder.
Now add 2tsp of saffron in milk on it.
Again add another uniform layer of rice on it uniformly.
Again add the rest of the chicken along with gravy as the fourth layer.
Add rice uniformly as 5th layer and add the remaining saffron mixture on the rice.
Again add the remaining jaifal+jaitri powder and garam masala to it.
Now add the golden brown crispy onion fries on top.
Add rose water+keora water to it.
Now put a lid on the pan keep in seam flame for 5 minutes.
Now mix the rice,masalas and chicken so that the dual color is preserved.
Serve hot with Chicken Chap by garnishing with onion.
Footnotes:
While mixing the rice,masalas and chicken,it should be done in light hand and very slowly.