Laal Maas (red Meat Rajasthani Style)
I make laal maas quite often but I often got confused with the different variations available online. And that is when I came across Chef Kunal Kapoor's version. He has debunked a lot of myths surrounding laal maas like it needs a lot of redolence hence kashmiri chili, it needs tomatoes and that it is made from hunting meat etc. He suggested the use of Rajasthani chili paste mathania. I did not have this so I did resort to kashmiri chili powder. My version this time was spicy but not because of chili powder. It was spicy because of the use of cloves and that is the only whole spice used in this curry. Use of mustard oil is a must and to finish the dish you must smoke your curry I will explain how to do this.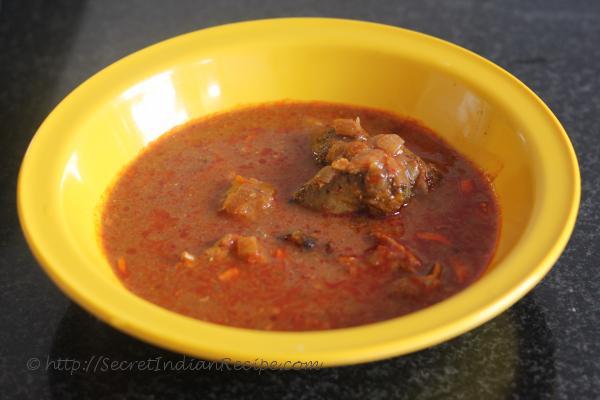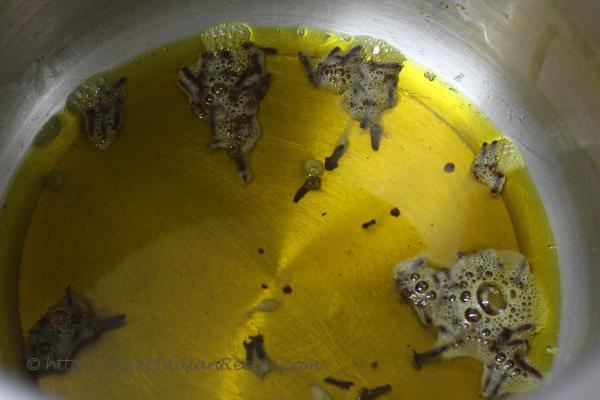 Ingredients:
Mutton- 1 kg
Cloves- 6-8
Onions- 4
Garlic- 15 cloves
Ginger- 1 inch long piece
Chili powder- 1 tsp
Kashmiri Chili powder- 2 tbsp
Curd- 1/2 cup
Salt- to taste
Mustard oil- 100 ml
Water- 1 cup
Ghee- 1 tsp
Charcoal- 1 piece
Garlic- 4 cloves
Directions:
Heat the oil till it is smoking hot and add the the cloves and once they splutter add the sliced onions.
Let the onions saute till it is soft and then add the cleaned and washed mutton pieces.
Let the mutton brown for 4-5 minutes and now add the minced ginger and garlic. Mix the ginger and garlic with the mutton and now add the spice powders.
Saute till raw smell of the powders go away. Add salt and curd after this.
Bring the curry to a boil and add the water. Let it simmer for 3 minutes and then pressure cook up to 2 whistles.
For the tempering fry sliced garlic cloves and add to the curry. Bring it to a final simmer and switch off the flame.
To smoke the curry, burn a coal and place it in a steel bowl. Add the ghee and the coal will start to smoke.
Place it in the pressure cooker and close the lid. See that you place the pressure cooker weight on so that the smoke does not escape.
Smoke for five minutes and take the coal out. Boil the curry for a minute and serve immediately.
Other Indian Recipes that you may Like !