Lagan Seekh - One Pot Minced Meat Delight
Lagan Seekh is a delightful one pot casserole dish with succulent meat that is enjoyed with great zeal in every Bohra Household. It can be eaten with your favorite bread or chapati for the main meal. Garnished with peppers and adorned with herbs, Lagan Seekh is definitely a sought after dish among many Bohras.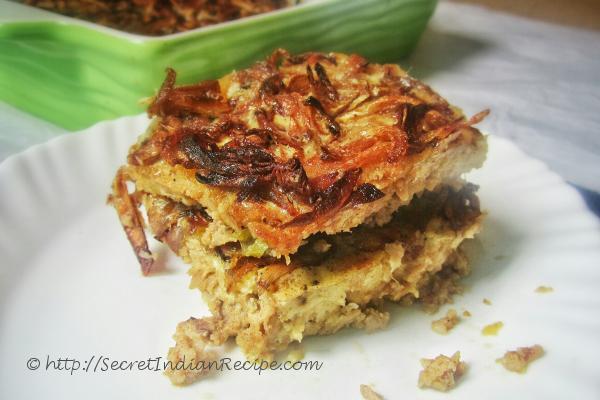 Ingredients:
Minced Meat – 500 gms, washed and drained
Ginger Garlic Paste – 2 tbsp
Onions – 4 medium, peeled and sliced thinly.
Green Chillies – 1 or 2. finely chopped
Red Chilly Powder – 1 tbsp
Turmeric Powder – 1 tsp
Cumin Powder – 1 tbsp
Eggs – 3, large
Salt to taste.
Black Pepper Powder to taste.
Coriander or Mint leaves for garnishing.
Ghee/Clarified Butter – 5-6 tbsp
Oil – 1/4 cup, for frying the onions.
Directions:
Wash and drain the minced meat in a colander. Place it in a bowl and add to it one sliced onion, ginger garlic paste, spices, chillies and salt. Give a good mix and let the marinade sit covered for an hour at a room temperature.
Meanwhile thinly slice the remaining onions and prepare the birista by frying them goldenbrown and crisp over a medium heat. Drain it on a paper towel and keep aside.
Grease the deep baking dish and preheat the oven to 200 degrees celcius. In the marinade,break an egg and mix it through. Pour the meat preparation in a prepared baking dish and layer with the fried onions/birista and drizzle on top smoking hot ghee. Cover with an aluminium foil and bake for 30-40 minutes
Beat remaining 2 eggs in a separate bowl and season with salt & pepper. Remove the dish and pour on top the beaten eggs and transfer it back into the oven. Bake for another few minutes (say 5-8 mins) till the eggs are fully cooked. Garnish with leaves. Slice and serve.
Other Indian Recipes that you may Like !