Lahsun Ki Roti (indian Garlic Bread)
I found this recipe in a book that mentioned it was helpful in weight loss after pregnancy. Even otherwise in our culture garlic is consumed in the post partum period because it alleviates gastro- intestinal issues and thereby soothes the tummy of the mother as well as baby. This is one recipe that has stayed with me after pregnancy till date.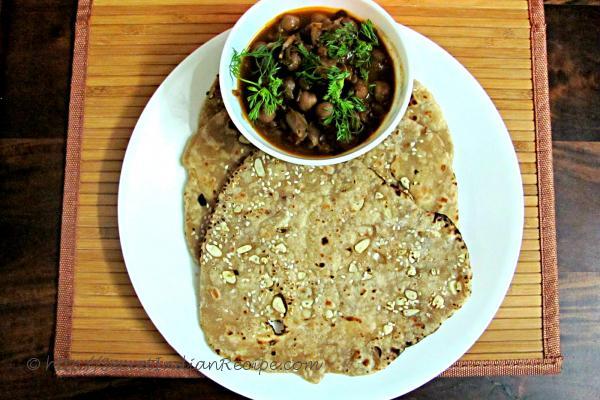 Ingredients:
Whole wheat flour- 1/2 cup
Black Millet flour (bajra)- 1/4 cup
White millet flour (jowar)
Salt- a pinch
Warm water- for kneading
Garlic- 6 pods
Oil- for spraying the tawa
Directions:
Chop the garlic very finely. Add all the flours to a bowl with salt.
Pour warm water slowly and knead the dough. Add finely chopped garlic in between and knead lightly.
Once the dough has reached the right consistency if you touch the dough with a finger it will bounce back.
Cover the dough with a wet cloth for half an hour.
Heat a tawa and drizzle little oil. Meanwhile make small balls from the dough and roll them as flat discs.
Cook the rotis on the tawa. Apply oil on both sides while cooking. Once the roti is cooked serve with pickle and curry.