Lal Mirch Ka Achaar (red Chili Pickle)
Red chili pickle is probably the second most common pickle among Indians, the first being the Mango Pickle. In Rural India actually pickle making is like an event where all the women and ladies in the house and neighborhood contribute. Red chili pickle often reminds me of days, when I used to go to my grand ma's (Grand mother's) place and in the afternoon, all my aunts and cousins used to assemble on the terrace and make pickles. In Town, however, this experience is rare where men and women need to go out of house for job and career. Most of the time, I also buy readymade pickles but these do not match the taste and are loaded with preservatives. Last summer, I got a chance to go to my grand Mother's place and there I learnt this quick ans easy recipe of making red chili pickle at home. I have already made it twice since and it taste awesome. So if you too want to try a homemade chili pickle, read the recipe below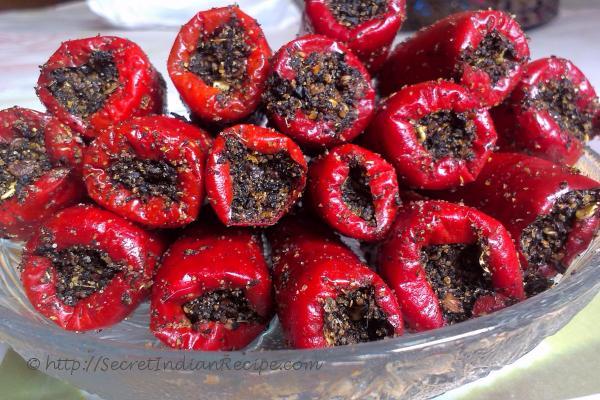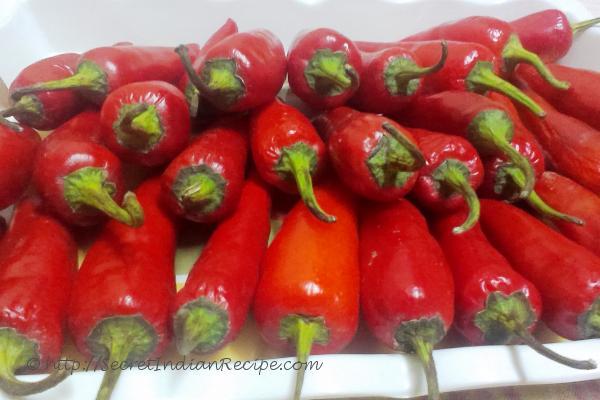 Ingredients:
Lal Mirch (Red chilies) – 500 grams
Lemon juice – 4 lemons
Amchur (Dry mango powder) – 6 tablespoon
Meethi seeds (Fenugreek seeds) – 5 tablespoon
Red chilies – 10
Saunf (Fennel seeds) – 10 tablespoon
Cumin seeds – 4 tablespoon
Rai (Black mustard) – 4 tablespoon
Garam masala powder – 4 tablespoon
Mustard oil – a little more than 1 cup
Salt – to taste
Directions:
Wipe the red chillies with a clean cloth and keep them under direct sunlight for 1 or 2 days. This will reduce the water content within the chilies and make it easier to stuff.
For stuffing, take fennel seeds, fenugreek seeds, cumin seeds and black mustard and red chilies in a pan and dry till they start releasing the aroma. Let them cool a bit and then coarsely grind them.
Pour the grounded masala in a bowl, add amchur powder, Garam masala, salt and lemon juice and mix well.
Heat oil in a pan on low flame till it start emanating smoke. Switch off the gas and let it come to room temperature.
After the oil is cooled, take about 6 tablespoon of oil and mix with the masala prepared before. Now carefully take each red chili, remove the crown and stuff the masala with help of small spoon or with toothpick…..It is a time taking procedure.
Once the chilies have been stuffed, transfer them into sterile jars and pour the remaining oil. Keep the chili pickle in sunlight for 1 or 2 days and then enjoy it throughout the year.