Lal Mirch Ka Achar (red Chily Pickle)
I am a diehard fan of pickles and I have always been lucky with them as in I do not remember my pickles getting spoilt or me regretting pickling something. I once read somewhere that the average Indian feels insignificant without a bottle of pickle. He needs it to make anything inedible, passable. So that burnt rice, bland dal or plain roti needs a bit of spice to end up in our tummy. I see these red chilies a lot in Bangalore right now and so pickled it for my off beat days.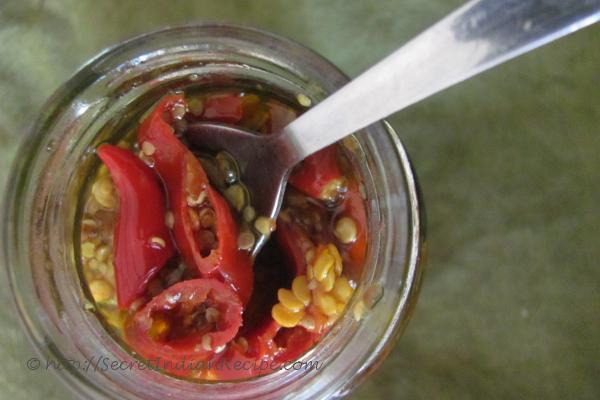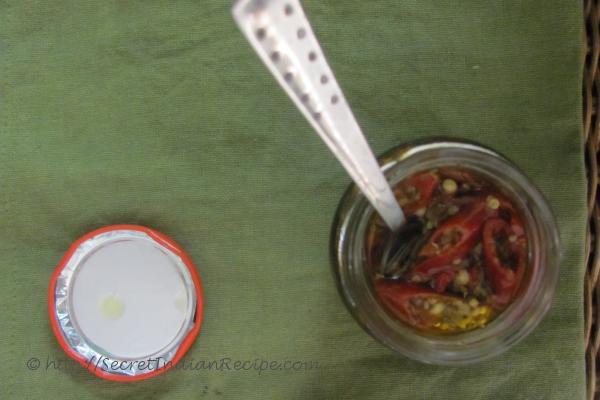 Ingredients:
Red chilies- 500 g
Lemon- 2
Split mustard- 25 g
Split fenugreek- 15 g
Aniseed- 2 tbsp
Vinegar- 8 tsp
Salt- 3 tsp
Turmeric powder- 2 tsp
Mustard oil- 200 ml
Directions:
Wash and dry the chilies removing their crowns. Slice them diagonally into 1/2 inch pieces.
Mix salt and vinegar in a plastic bowl and add the chopped chilies to this bowl along with peeled and sliced lemon.
Mix the chilies well and keep it closed for an hour on the counter top.
Crush the aniseed coarsely. Add the aniseed, split fenugreek, split mustard seeds and turmeric powder to the marinated chilies.
Transfer the pickle to sterile jar. Heat the mustard oil till it emanates fumes and let it cool down.
Pour oil over the pickle in jars till oil tops the pickle.
Leave the bottles in sun for a week with lids on and store in a cool place thereafter.
Footnotes:
The red chilies mentioned here are not the long ones that are used for stuffed pickle it is the one that looks like normal green chilies but is red in colour.
Split mustard and split fenugreek is also known as sarson ka chawal and methi ka chawal. If you do not find this coarsely crush roasted mustard and fenugreek seeds.