Lal Mirch Thecha (red Chilli Chutney)
Hello foodies! I am sure, we all sometimes feel that we a need a little addition to our meals to make it more tangy and spicy- and we end up having our favorite pickle. But let's add something more to that; let's prepare a chutney so hot and flavorful that would easily go with anything.
What do you do with the red chillies? Well, most of us dry it and make chilli powder out of it or may be a red chilli pickle (aachar). But let's use some red chillies to make THECHA out of it this time.
Thecha is a dish from Maharashtra, traditionally thecha is made on stone grinder but since the times have changed and now every kitchen has a mixture grinder to make things easier and simpler for us.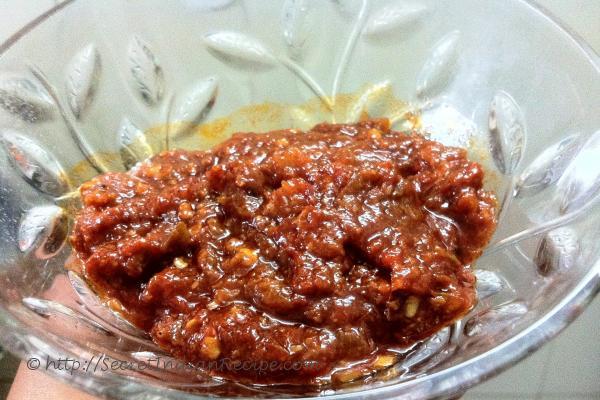 Ingredients:
A handful of red chillies (fresh or dry)
Garlic cloves about 7-8
Salt to taste
1tbs lemon juice
1tbs groundnut oil
Directions:
Soak the red chillies in water for about 5-6 hours.
Add chillies, garlic cloves and salt to grinder and make a thick paste.
Mix the lemon juice to the paste.
Add the groundnut oil to the paste and mix it well.
Footnotes:
Adding the groundnut oil to the paste will reduce the fiery effect. Happy cooking!